Idaho State University psychology Professor Joshua Swift to receive prestigious Early Career Award from the American Psychological Association, Society for the Advancement of Psychotherapy
May 19, 2016

POCATELLO- Idaho State University psychology professor Joshua Swift will receive the Early Career Award from the American Psychological Foundation and the Society for the Advancement of Psychotherapy this August.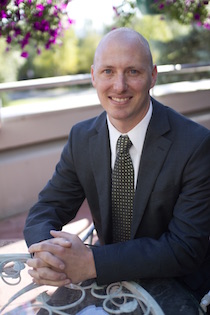 The early career award recognizes outstanding promise in the field of psychotherapy, mostly based on research contributions to the field.
"Receiving the Early Career Award is a really cool experience for me since this is a society that I have belonged to since graduate school," Swift said. "In many ways it is my professional home."
Swift's research is on psychotherapy process and outcome. He said that studies have shown that about one in four Americans will suffer from a mental health problem in a given year, but very few of them will actually seek out help. A portion of his research focuses on identifying ways to get more people to see a professional when there is a mental health need. He also looks at understanding why some clients improve in therapy and others do not. Lastly, he focuses on training students to become proficient clinical psychologists.
In February, Swift received the Western Psychological Association Enrico J. Jones Award for Research in Psychotherapy and Clinical Psychology. The purpose of this award is to recognize the scholarship of an early-career psychotherapy researcher (10 years or fewer post-Ph.D.).
"It feels great to be recognized as an early-career contributor, especially at this point in my career," Swift said. "It has been six years since graduating, and I think these awards are a good way to start to transition into the middle portion of my career."
At ISU, he provides instruction, supervision and mentoring to graduate and undergraduate students. He is also an Idaho state licensed psychologist. Swift received his degree in clinical psychology from Oklahoma State University, completed a pre-doctoral internship at SUNY Upstate Medical University and was a faculty member at the University of Alaska Anchorage. He currently has more than 40 peer-reviewed publications, has co-authored an APA-published book, and has made more than 65 conference presentations.
"I couldn't be happier at ISU," Swift said. "I love teaching both undergraduate and graduate courses and providing research and career mentoring to students."
---
Categories: