ISU researcher Michael Meyers publishes study showing lower rates of injury for collegiate men soccer players playing on FieldTurf versus natural grass
December 1, 2016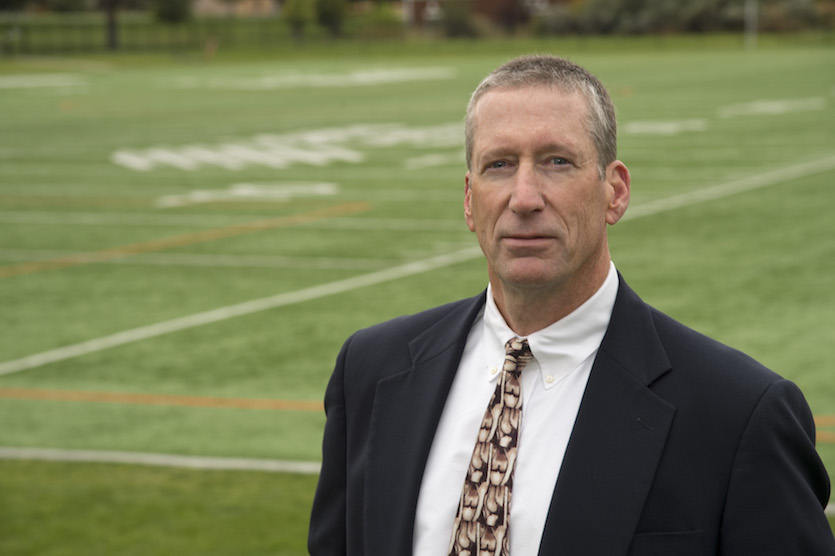 POCATELLO – Idaho State University researcher Michael Meyers has published research findings that conclude there is a significantly lower injury rate for collegiate men's soccer athletes playing on FieldTurf, a type of artificial turf, versus playing on natural grass.
Meyers, an associate professor of sports science and physical education, published "Incidence, Mechanisms, and Severity of Match-Related Collegiate Men's Soccer Injuries on FieldTurf and Natural Grass Surfaces: A 6-Year Prospective Study" in the Nov. 21 issue of The American Journal of Sports Medicine.
"Although similarities existed between FieldTurf and natural grass during competitive match play, FieldTurf is, in many cases, safer than natural grass when comparing injuries in collegiate men's soccer," Meyers said.
He qualified this remark by saying the findings of this study, however, may not be generalized and applied to other levels of competition or to other artificial surfaces.
Meyers studied male soccer athletes from 11 NCAA Division I universities who were evaluated over six seasons. He evaluated 765 games for the match-related injuries playing on the two surfaces.
Overall, 380, 49.7 percent of the games evaluated were played on FieldTurf and 385 games, 50.3 percent, were played on natural grass. Meyers documented 722 injuries, with 268, or 37.1 percent, occurring on FieldTurf, and 454, 62.9 percent, on natural grass.
Meyers's analyses also indicated significantly less trauma on FieldTurf when comparing severity of injury, injury category, time loss, player position, injury mechanism and situation, injuries under various environmental conditions, cleat design, turf age, anatomic location and elective medical procedures. No significant difference between surfaces by knee injury was observed.
Demographic features and predictors included player position, cleat design, player weight, turf age and environmental factors. Outcomes included injury incidence, injury category, time loss, injury mechanism and situation, type of injury, injury grade and anatomic location, injury severity, head and lower extremity trauma and elective medical procedures. All match-related injuries were evaluated by the attending head athletic trainer and team physicians on site and subsequently in the physician's office when further follow-up and treatment were deemed necessary.
"More that 1 million athletes play competitive soccer in the United States. Unfortunately, with this volume of competition, the number of injuries is rising, and their cost of treatment and rehabilitation is reaching into the millions of dollars each year," Meyers said. "Coupled with this is the psychological trauma and setbacks in training, and the potential for long-term degenerative changes typically experienced by athletes after a significant injury. Therefore, the results of this study that has identified factors that predispose soccer athletes to these injuries should provide some guidance when selecting playing surfaces in the future."
For more information on the study, visit http://ajs.sagepub.com/content/early/2016/11/18/0363546516671715.
---
Categories: