ISU Human Performance Lab interns make headway in their research efforts
November 15, 2016
Scarlett Smith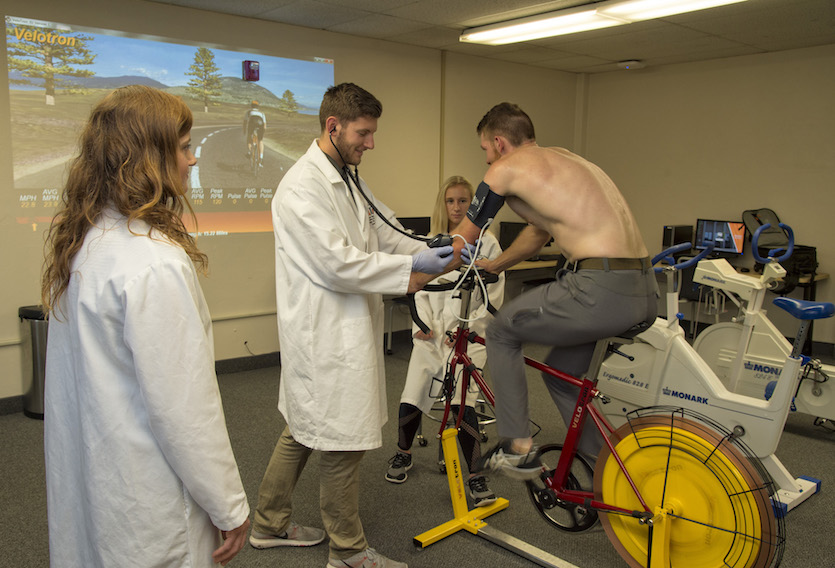 POCATELLO – Idaho State University career path interns in the Sport Science and Physical Education Department are making headway completing research on a variety of projects, testing athletic psychological and physical skills to pain coping skills.
Under the supervision of Sport Physiologist and Associate Professor Michael Meyers, four students are studying a variety of topics while working in the department's Human Performance Laboratory located in Reed Gym. The laboratory is a comprehensive testing and education center with cutting edge equipment and technology. Various exercise tests and fitness evaluations are offered in the lab both for students and the public. Students seeking a degree with an exercise science emphasis become proficient in performing standard exercise tests. The Human Performance Laboratory has become a staple of the Department of Sport Science and Physical Education, allowing students to gain expertise in testing and research.
"The lab offers many different things and contributes a lot to student research," Meyers said.
Senior Andrew Polenske is in the final stages of completing his research about psychological coping skills of Big Sky Conference track and field athletes.
"Two hundred twenty-five people responded and we found that the track and field programs in this region have been a little lackluster with their psychological skills, so that warrants a little more investigation into what we can do to improve that," said Polenske.
Still finalizing things, Polenske hopes that by the end of the semester he will submit the scholarly paper to be published.
Senior Ashley Bullers has begun studying the pain coping skills of female ultra-marathon runners, who run 26.2 miles or more.
"My hardest thing is finding participants because the female population of ultra-marathon runners in Pocatello is very small, so I've been trying to reach outside of the state of Idaho," Bullers said.
Junior Emily Neufeld, who is interested in going into the field of nutrition, is studying the nutrition of rock climbers. For this study, Neufeld created a biographical sheet which lists the participant's height, weight, and other information about themselves, and what type of rock climbing do they do. Participants also fill out a three-day diary of what they eat and drink.
"I am just about to enter the results into a diet analysis system which is used to assess their diets for different nutrients and vitamins, leading to how nutrition can improve rock climbing performance."
Colin "Flynn" Mahoney a senior in physical education with an emphasis in exercise science, has worked at the laboratory for two years. His study centers on his ISU parkour class.
Mahoney is studying whether parkour elicits a positive health and physical fitness response. The students are assessed in four main categories, agility, lower body power, upper body power and sprint speed. The students are first pretested and analyzed by Mahoney in the laboratory. Participants run on treadmills and assessed for muscular strength. They are hydrostatically weighed and finally go through an obstacle course Mahoney built.
"At the end of the semester I posttest them and see if they have improved their VO2 max or the maximum volume of oxygen that they are using, if they've gotten stronger, if they exhibit any improvement in body composition, or if they improved on the obstacle course," Mahoney said. "To see students improve over the course of a semester and to build bonds and relationships with them has been one of the most satisfying things I've done here."
Before each of these students was qualified to work as a CPI in the Human Performance Lab, they had to excel in both exercise physiology and exercise assessment and prescription courses. Many of these students go on to work in hospitals, sport performance settings and postgraduate programs.
The Human Performance Lab is open to the community, athletes, faculty and staff at ISU for testing services ranging in price from $15 to $170. The laboratory is also open to students, professionals and the community for tours.
For more information, about the HPL visit http://ed.isu.edu/sspe/human_performance_lab.shtml.
If interesting in taking an ISU parkour class, contact Mahoney at mahocol2@isu.edu.
---
Categories: