Idaho State University researcher Mark Austin seeks clues for combating depression and suicide
September 7, 2016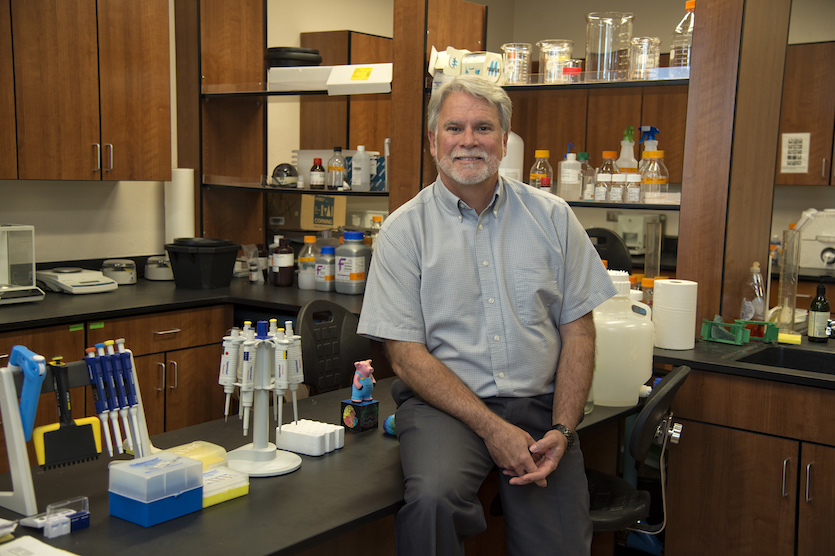 The facts related to suicide and its incidence in Idaho are staggering, among them, Idaho is ranked sixth in the nation in suicide rates and Idaho State University researcher Mark Austin wants to do more to understand this problem and how it relates to major depression.
"Considering the overall population density of Idaho, that suicide rate is really high, and it is the 10th leading cause of death overall in the state," said Austin, chair and professor of the ISU Department of Biological Sciences.
Austin was recently the keynote speaker for the statewide 14th annual Idaho INBRE Research Conference in Moscow. His talk focusing on major depressive disorders, which relates to suicide, has messages that can resonate with the general public, especially with National Suicide Prevention Day coming up Sept. 10. The title of his lecture at the INBRE conference was "Pathophysiology of Major Depressive Disorder: Serotonin, Sex Differences and Novel Therapeutic Targets."
Citing information from the American Foundation for Suicide Prevention, one of the entities responsible for the suicide prevention day and week, Austin emphasized the link between suicide, major depression and other mental illnesses.
"Fifteen percent of people with major depression will go on to commit suicide," Austin said. "Major depression is a chronic illness and, according to the World Health Organization, by the year 2020 depression will be the second largest killer after heart disease."
He also noted the total cost of depression in the United States is more than $80 billion a year and that it is the most frequently seen psychiatric illness in primary care settings. Only about half of individuals with major depression show good remission and response to available treatments. Austin also noted the prevalence of mental illness and access to health care in Idaho. Idaho ranks in the bottom 10 states with high rates of mental illness but low rates of access to care.
"I think a contributing factor to the high rate of suicide in the state is that we lack mental health services available to people who struggle with mental illness," Austin said. "They are not getting the health care that they need in the state."
Austin said he hopes to help develop a neuroscience graduate program, with psychiatric neuroscience as a component of the program, at ISU. This neuroscience graduate program is in ISU's five-year plan, but the planning is only in its initial stages.
"We'd like to educate students here on the neurobiology of certain psychiatric and neurological disorders and conditions," Austin said. "My hope is that students getting that type of degree can help facilitate mental health programs and awareness in the state."
The neurobiology and neuroscience of major depression has been Austin's research focus during his entire career. A major part of his research focuses on the sex difference of major depression. The prevalence of depression is twice the rate in women than in men.
"Women are at a much higher risk of developing depression, and given all the research that has been done focusing on depression, it is really remarkable that we don't have a better understanding of the biological mechanisms that make women more vulnerable, compared to men, with this mental illness" Austin said. "We have found some interesting changes in the serotonin system we've documented in women with depression that we don't see in men with depression."
Austin studies the serotonin system and treatment strategies for treating major depression.
---
Categories: