Idaho State University history professor Paul Sivitz develops map representing Philadelphia in the 18th century
October 27, 2016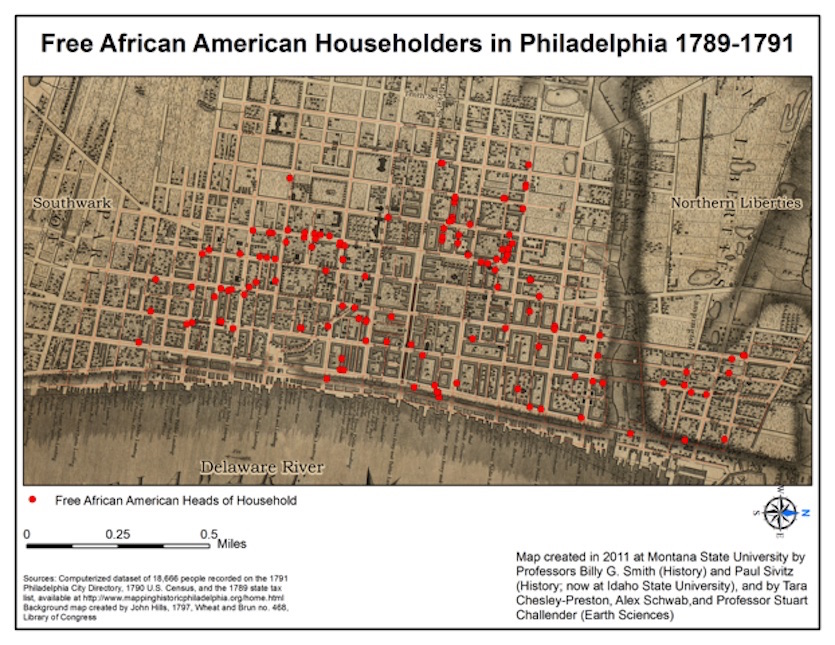 POCATELLO – Idaho State University history Professor Paul Sivitz recently developed a map with Montana State University professor Billy G. Smith that is currently on display at the National Museum of African American History and Culture.
The map is titled, "Free African American Householders in Philadelphia, 1789-1791" and is one of the hundreds that have been developed by Sivitz and Smith as part of their project "Mapping Historic Philadelphia" that examines the lives of Philadelphians in the eighteenth century.
The "Mapping Historic Philadelphia," project, which began in 2009 when Sivitz was a graduate student at MSU, recovers the lives of Philadelphians living in the nation's first capital during the last decade of the eighteenth century. The project examines topics and themes ranging from race and slavery to the deadly yellow fever epidemic of 1793. People from all walks of life, not just Philadelphia's elite politicians and professionals, appear on the project's diverse maps including laborers, women, carpenters, bread bakers, boarding house owners and tailors.
The maps are produced using Geographic Information Systems (GIS) technology, which allows for the creation of graphical representations of Philadelphia. First, detailed demographic, economic and occupational information about more than 20,000 inhabitants in Philadelphia is drawn from city directories, tax lists and censuses and then computerized. Then, the GIS software generates maps, enabling the visualization of early American history in new ways. The "Mapping Historic Philadelphia" project has created the first visual representation of an 18th-century American urban center.
Sivitz's research focuses on early American, digital history, slavery and race, print culture and dissemination of knowledge in the 18th century. Smith's research focuses on race, class, slavery and disease in early America.
More maps can be viewed at mappinghistoricphiladelphia.org, as well as http://philadelphiaencyclopedia.org/archive/philadelphia-and-its-people-in-maps-the-1790s/.
For more information, contact Sivitz at 282-2379 or sivipaul@isu.edu
---
Categories: