Idaho State University Senior Art Exhibition runs March 12-22, opening March 11
March 8, 2013
ISU Marketing and Communications
The Spring 2013 Idaho State University Bachelor of Art/Bachelor of Fine Art Senior Exhibition will run March 12-22 in the Davis Gallery located in the Fine Arts Building at Idaho State University.
The opening reception for artists, who are scheduled to graduate in May, will be from 5 to 7 p.m. Monday, March 11.
This exhibition will feature artists Andrew Berg B.A.; Lauren Borgholthaus B.A.; Ashley Jackson B.A.; Joshua LaPray, B.F.A.; and Emily McCoy, B.F.A.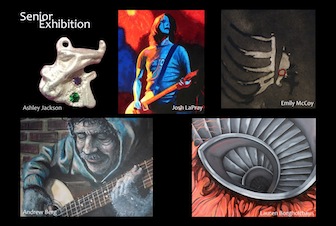 All events are free and open to the public.
Berg, originally from Soda Springs, is primarily focused on traditional painting, but he has been exploring other avenues of artistic expression working as a graphic artist for snowboard and wakeboard companies. Berg's long-term goal is to become a children's book illustrator and author, focusing his artwork towards his family, including his wife Abigail, and daughters June and Eva. His art is meant to inspire imagination and encourage people to connect with themselves, others and God.
Borgholthaus was born and raised in Pocatello and her love of the area and the natural beauty in her hometown led her to pursue her degree. Borgholthaus primarily enjoys painting and employs a variety of oils and acrylics in her work.
Jackson was born in Pocatello, but ran away for quite some time and, inevitably, returned to Pocatello where she currently resides. Her work has primarily been in jewelry and metalsmithing, but she also dabbles in ceramics and painting.
Joshua LaPray was born in 1985 in Tacoma, Wash. In August of 2007, he moved from Maryland to Idaho Falls to be with his dad. LaPray's art focuses on drawing and painting. After graduating, he would like to pursue a career as a conceptual artist in the video gaming industry. He is a conceptual artist who primarily works with traditional materials, including graphite, ink, china marker, and sometimes digital or oil painting.
McCoy, a native Pocatello, has turned her artistic focus to printmaking, but she also enjoys painting and mixed media.
The John B. Davis Gallery hours are Monday – Friday 10:00 a.m. – 4:00 p.m. The gallery is located on the lowest level of the Fine Arts Building #11 on the campus of Idaho State University. For more information please contact Amy Jo Popa at 282-3341 or visit us online at www.isu.edu/art/galleries.shtml.
###
---
Categories: