Idaho State University Senior Exhibition 'Connections' runs Nov. 12-30 at Davis Gallery
October 25, 2012
ISU Marketing and Communications
The Idaho State University John B. Davis Gallery will present the Fall 2012 Bachelor of Fine Arts Senior Exhibition "CONNECTIONS" Nov. 13-30 in the ISU Fine Arts Building.
This exhibition will feature artists Sandy Bakken, Shanel Johns and Alyse Zendrosky. An opening reception for the artists is scheduled for Nov. 12 from 6 to 8 p.m. All events are free and open to the public.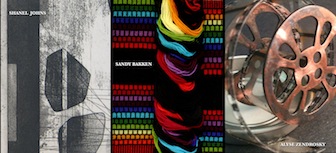 Bakken was born and raised in Montana. She moved to Pocatello in 1982 when she married her husband, John. She earned physical therapy, dental and ophthalmic certifications, working in these professional fields for many years. Bakken owned and operated two businesses and dabbled in antiques and tax preparation. While living in Montana, Bakken became interested and accomplished in the ancient art of wheat weaving. In 1990, one of Bakken's wheat weavings was selected to travel with the "Spirit of the West" Idaho Centennial Art Exhibition. She enrolled at Idaho State University in 2007 to pursue fiber weaving. Bakken will receive her Bachelor of Fine Arts degree from the art department in December. Along with her educational and professional accomplishments, Bakken is very proud to be a mother, grandmother and great-grandmother.
Johns was born in Idaho Falls and currently lives in Pocatello. She will graduate in December with a Bachelor of Fine Arts degree from the art department. Her work has focused primarily on printmaking, but she also enjoys working in ceramics and mixed media.
Zendrosky is originally from Winters, Calif., and moved to Pocatello in 2003. Zendrosky enjoys working with bronze, silver, copper and steel. She also enjoys working with linoleum for relief printing. Zendrosky earned an Associate of Applied Science degree as a welder-fitter and is currently working towards her Bachelor of Fine Arts degree from the art department.
The John B. Davis Gallery hours are Monday – Friday from 10 a.m. to 4 p.m. The gallery is located on the lower level of the Fine Arts Building #11 on the campus of ISU.
For more information contact Amy Jo Popa at 282-3341 or visit us online at www.isu.edu/art/galleries.shtml.
###
---
Categories: