ISU Davis Gallery features new exhibit 'Din of Murmurs: the GlassBook Project'
August 11, 2011
ISU Marketing and Communications
"Nick Kline, Din of Murmurs: the GlassBook Project" will open Aug. 22 and run through Sept. 16 at the Idaho State University John B. Davis Gallery.
This is the second stop on a tour of well-known art institutions that includes Paul Robeson Gallery at Rutgers University in Newark, N.J.; The Grounds for Sculpture in Hamilton, N.J.; Sol Mednic Gallery at the University of the Arts in Philadelphia, Penn.; and Open Source Gallery, Brooklyn, N.Y.
The exhibition features abstract photographs and sculptures, or glass books, drawn from different collections of the GlassBook Project. The artworks in the GlassBook Project aim to build understanding of different human responses to trauma.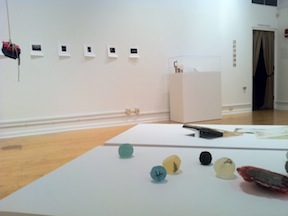 The opening reception is on Aug. 22 from 6 to 8 p.m. The gallery is in the Idaho State University Fine Arts Building. Hours are 10 a.m. – 4 p.m. Monday to Friday. Visit www.isu.edu/art/galleries.shtml or call 208-221-8239 for gallery information.
The GlassBook Project is a creation of artist Nick Kline, in collaboration with Helga Luest of Witness Justice, a national nonprofit organization that provides support and advocacy for victims of violence and trauma. Kline engages with other professional artists, trauma survivors, art students, community participants and technical specialists to produce the books. The project brings these participants together to understand the trauma experience and explain how certain behaviors, such as self injury, eating disorders, aggression and substance abuse helped them cope. Among the sculptures featured at the Davis Gallery are works from the fourth collection of the GlassBook Project – "120 MPH: Thrill Seeking After Combat," created in 2011 with military veterans.
The GlassBook Project has received numerous federal grants and awards, including being named one of five top national mental health innovations of 2009; the Ambassador Award for education, NJ Governor's Council on Mental Health Stigma, 2010; and others. To date nearly 100 books have been made within seven different topic collections, including self injury, domestic violence, child abuse, thrill seeking veterans, tenth anniversary of 9/11 and others.
The books are exhibited with programming in a wide range of different contexts; including grassroots to high-level federal meetings, a Hollywood celebrity red carpet event, museums and art galleries, a national candlelight vigil with the U.S. Department of Justice, and others. It is also used in advocacy to make systems and programs more responsive, helpful and less triggering to survivors of trauma.
For more information about "Din of Murmurs," please contact Nick Kline, 973-353- 5600, and Helga Luest, 301-846-9110. For more information about the GlassBook project, see www.glassbookproject.org and www.witnessjustice.org.
###
---
Categories: