ISU Master of Fine Arts Thesis Exhibition 'Felt' on display until Nov. 12
November 1, 2010
ISU Marketing and Communications
The Idaho State University Master of Fine Arts Thesis Exhibition "FELT" by Omar Sarabia will be held at the John B. Davis Gallery in the Fine Arts Building from Nov. 1-12.
The opening reception is scheduled for Monday, Nov. 1, from 6 to 8 p.m. The exhibition will be on display from Nov. 2 to 12.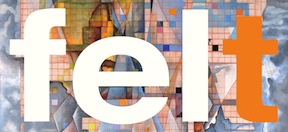 Sarabia was born in Torreon, Coahuila, Mexico in 1978. Sarabia currently lives in Pocatello and has been a resident of Idaho for about 30 years. In 2002 he received his Bachelor of Fine Arts degree from the Department of Art and Pre-Architecture at Idaho State University. This fall Sarabia is completing his Master of Fine Arts Degree at ISU.
The works for "Felt" are all acrylic medium paintings.
"I have felt the suburban and natural landscapes of eastern Idaho and believe that both terrains have shaped the work for this exhibition," Sarabia said.
The John B. Davis Gallery hours from 10 a.m. to 4 p.m. Monday through Friday.
This event is free and open to the public. The John B. Davis Gallery hours are Monday – Friday 10 a.m. – 4p.m. The gallery is located in the Fine Arts Building #11, on the campus of Idaho State University. For more information contact Amy Jo Popa at 282-3341 or www.isu.edu/art/galleries.shtml.
---
Categories: