Robin Terrell, B.S., CMA
Medical Assisting Program Coordinator
Office: Owen-Redfield Complex 241
208-282-4837
Professional Work Experience
Certified Medical Assistant – 11 years
Instructor, ISU Medical Assisting – 6 years
Program Coordinator, ISU Medical Assisting – 3 years
Career Highlights
For the last 5 years, I have had the opportunity to hold the office of Vice-President, President, and now Past-President of our state society. As I have run our state meetings and looked out over the membership and see the faces of all the students I have had the opportunity to teach in this program, I am filled with pride. I also feel awe at the excitement and enthusiasm that is in that room. It is quite an experience! I hope that my example will bring students into the leadership of our chapter, state and national organizations as they continue their professional journey.
One of my Favorite Professional Experiences…
I honestly cannot think of a favorite experience; they have all been good.
I love seeing a patient who feels better because of the patient education that I was a part of that has changed their quality of life
I love watching a new mother with a healthy new baby because we were able to follow her pre-natal care and help her with healthy choices
I love watching the enthusiasm of students as they take those first steps toward a great profession
I love watching students who are hesitant about performing injections, phlebotomy or in-house tests, but as their confidence grows, they become competent in actions they thought they couldn't do
I love watching students cross the stage, take their medallions, and walk out of the building to a new life knowing that I had the opportunity to be part of that process!
I had a student in my Administration of Medications class who was terrified of needles to the point she would shake and cry every time we did injections. It really was quite the ordeal. The students were so supportive and I watched a strong bonding friendship develop as the students would talk to her and cheer her on as the semester continued. By the end of the semester, this young lady was so confident about injections that she was the first one to step up each time we did injections. She is an amazing CMA and loves doing her job!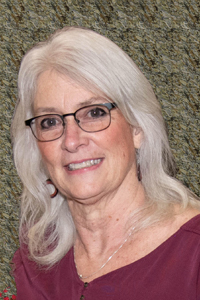 Susan Carter
Instructor
Office: Owen-Redfield Complex 242
208-282-4317
Professional Work Experience
I worked at Student Health for 3 years as a Certified Medical Assistant
I have been an Instructor in the Medical Assisting program for 3 years
Career Highlights
I have been associated with ISU since 1978. When I first moved to Pocatello from upstate New York, I worked as an Administrative Assistant in the Anthropology, Sociology, and Social Work department. From there, I chose to attend the Upholstery Program in the College of Technology. Together, with my husband, who also graduated from this program, we have run an upholstery business for over 30 years.
I moved to the Student Health Center at ISU in 2012, where I worked with another group of exceptional healthcare workers, caring for the needs of students, faculty, and staff on campus. I had been contacted by the Program Coordinator of the MA program who let me know that she would be retiring within a few years and had suggested I get my teaching degree so that I could apply for a position when she left. I took her advice and graduated one more time from the COT with a degree in Human Resources and Development.
I began teaching in the Medical Assisting program in 2014, and am grateful every day that I get to do this work. Robin and I work well together and we enjoy connecting with students. Our program brings students from many backgrounds together to pursue a career that gives them the ability to touch the lives of patients, to be advocates for healthcare, and to connect with people who deserve quality care.
Professional Experience:
Health West, Inc.
Student Health Center, ISU
In 2003, the very physical work of being an upholsterer began wearing on me and I returned to the College of Technology to pursue my other passion: healthcare. I had the good fortune of meeting Robin Terrell when we both began as students in the Medical Assisting program. We immediately forged a bond and, in the years following graduation, we worked together at Health West, a federally funded clinic whose motto is "Healthcare for Everyone." It was there that we worked with a physician who made a lasting impression on both of us. At the end of every day, Dr. Ty Salness would thank his staff for the work we had done with people who, without Health West, would quite possibly have gone without any healthcare. Every evening he would say, "We helped people today." That mentality resonated with me and I have much pride in the quality care we have given to every patient.
I feel that I have been afforded the opportunity to affect positive change, directly, with the students who trust us with their education and, indirectly, through the work that they will do when they join the growing field of Medical Assistants.