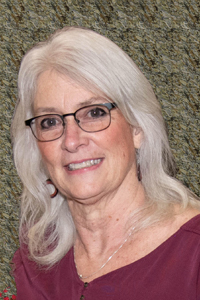 Susan Carter
Coordinator / Clinical Assistant Professor
Office: Owen-Redfield Complex 242
Teaching Experience
Began teaching in the Medical Assisting Program at the College of Technology in August of 2014
College and Highlights
I have been associated with ISU since 1978. When I first moved to Pocatello from upstate New York, I worked as an Administrative Assistant in the Anthropology, Sociology, and Social Work department. From there, I chose to attend the Upholstery Program in the College of Technology. Together, with my husband, who also graduated from this program, we have run an upholstery business for over 30 years. After many years of very physical work, I opted to return to ISU and get my associate degree in Medical Assisting. I have always been interested in wellness, and this seemed like the best way to have direct contact with patients, to be able to educate them concerning their own health. When the opportunity to teach arose, I once again returned to the CoT and got a bachelor's degree in Human Resource Development and Technical Education.
I accepted a position at the Student Health Center at ISU in 2012, where I worked with group of exceptional healthcare workers, caring for the needs of students, faculty, and staff on campus. I still have a strong connection with the University Health Center providers and staff. We work closely together to ensure our students are receiving up-to-date information and instruction.
I began teaching in the Medical Assisting program in 2014 and am grateful every day that I get to do this work. Connecting with students in this program and being able to contribute to their education and life career is very rewarding. Our program brings students from many backgrounds together to pursue a career that gives them the ability to touch the lives of patients, to be advocates for healthcare, and to assist people who deserve quality care.
Medical Assisting Professional Experience:
Health West, Inc.
Student Health Center, ISU
My first medical assisting job was at Health West, a federally funded clinic whose motto is "Healthcare for Everyone." I was fortunate enough to work side-by-side with Robin Terrell, my close friend from the MA program. It was there that we both worked with a physician who made a lasting impression on us. At the end of every day, Dr. Ty Salness would thank his staff for the work we had done with people who, without Health West, would quite possibly have gone without any healthcare. Every evening he would say, "We helped people today." That mentality resonated with me and I have much pride in the quality care we have given to every patient.
I feel that I have been afforded the opportunity to affect positive change, directly with the students who trust us with their education and, indirectly, through the work that they will do when they join the growing field of Medical Assistants.
Becky Mann
Clinical Instructor
Office: Owen-Redfield Complex 241
Teaching Experience
Began teaching in the Medical Assisting Program at the College of Technology in August of 2021.
College and Highlights
I started my career in healthcare as a Certified Nurse's Aide in 2000. I spent time caring for others and listening to the life stories they felt comfortable sharing. I spent time over the years with my sister and nephew through his cancer diagnosis, as they were in and out of many physician offices. I personally found hope through the many relationships and networks provided through patient care. I was personally inspired to pursue a position in a clinic, working diligently with physicians and co-workers to provide extraordinary care to patients.
I obtained my Associates Degree in Medical Specialties, followed by obtaining my Certification for Medical Assisting in 2012. I spent most of my career between Internal Medicine and OB/Gyn. In 2017, I decided to pursue a second Associates Degree with a career in teaching. I was able to work part time in the clinics on rotation as well as spend some of my time as a substitute and para-educator at elementary level.
Most recently, I was able to experience a variety of professions such as: Cardiology, Surgery, Urology, Podiatry, Behavioral Health, Kwik Care and Family Practice. Whether it is teaching in the clinic or teaching in the classroom, it is something I have enjoyed for over 20 years. I am certified in Medical Assisting, CPR/BLS, and have obtained my Postsecondary Limited Occupational Specialist endorsement/certificate.
I began teaching in the Medical Assisting program in 2021 and enjoy the perfect mix of two things I thoroughly enjoy, Medical Assisting and Teaching. It is a great joy to see students connect with a career they love in healthcare. Our program prepares students for a fulfilling career as a Medical Assistant in a variety of clinics and specialties. Patient care is complex, but rewarding. With great compassion and empathy, skills are perfected for success in the Medical Profession here at ISU in the College of Technology Medical Assisting Program.
Medical Assisting Professional Experience:
Internal Medicine; Seth Lewis MD
Intermountain Healthcare of Utah
St. Luke's Magic Valley
Portneuf Medical Center