News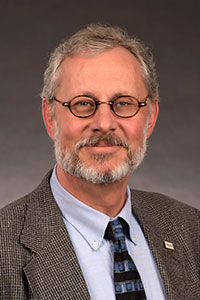 Vice President for Research Announces Retirement
Idaho State University Vice President for Research and Dean of the Graduate School Cornelis J. Van der Schyf has announced he will retire from his position effective Dec. 29.
After a 35-year career in academics, Van der Schyf said he is looking forward to travelling with his wife, Tosca, and spending time with family.
"It has been my great pleasure and privilege to have proudly served Idaho State for more than five years," Van der Schyf said. "My wife Tosca and I are excited to start a new chapter in our lives, but I am also sad to see this one end. We have become true members of this wonderful Bengal family."
ISU President Kevin Satterlee said Van der Schyf is a renowned researcher and academic whose skills have benefited ISU greatly.
"Neels has been a tremendous asset to our University," Satterlee said. "His service and dedication to Idaho State will be missed."
Before joining ISU in May 2013 as dean of the Graduate School and professor of biomedical and pharmaceutical sciences, Van der Schyf was associate dean for research and graduate studies, founding chair and professor of pharmaceutical sciences, and professor of neurobiology at Northeast Ohio Medical University. Van der Schyf served as a visiting professor in Australia, Belgium, United States, and currently as emeritus extraordinary professor at Northwest University in South Africa. He has received several teaching and research honors, South Africa's highest honor in drug discovery research, the FARMOVS Prize for Pharmacology and Drug Development. Van der Schyf is also the recipient of the 2010 Olson/Blair Award for Administrative Excellence.
---
I Love ISU Passes Goal
The 2018 annual I Love ISU scholarship campaign raised $280,285.63 in pledges for scholarships for Idaho students.
This year's total exceeded this year's goal of $275,000 set for the campaign.
"Once again the community stepped up and supported scholarships for Idaho students," said 2018 I Love ISU Chair Kevin Jones, head of loss mitigation at ISU Credit Union. "We want to thank each and every donor and all the volunteers who helped with this effort. These contributions provide essential support for the scholarship recipients and benefit our entire community."
The I Love ISU campaign has been supported in Pocatello for 36 consecutive years. Volunteers dedicate their time to contacting local business owners, alumni and ISU employees requesting their support for scholarships. More than 200 volunteers gathered pledges through two weeks of peer-to-peer contacts and other activities.
For more information on the campaign, contact Kallee Valentine at valekall@isu.edu.
---
Sophomore Writes Handbook on STEM
Idaho National Laboratory has published "A Parent's Guide to STEM," a resource available to parents in both English and Spanish, that was a project led by INL summer intern Adrienne Petrovic, a sophomore at Idaho State University.
Petrovic was working under the direction of her mentor, Dr. Catherine Riddle.
This guide is designed to provide information and resources to adults with students of any age. The handbook will help parents navigate the steps needed to prepare their students to encounter science, technology, engineering and math (STEM) in school, their everyday lives and in their careers.
INL's K-12 STEM education and outreach program focuses on developing a skilled, talented and prepared STEM-literate workforce. Outreach is focused on students, teachers and the community. "A Parent's Guide to STEM" can be accessed in English and Spanish on INL's K-12 website. It joins a suite of other STEM resources available from INL, including "STEM Help Wanted," a career guide that's also available in English and Spanish.
---
Kasiska Division of Health Sciences Reorganizes to Handle Growth
Idaho State University's Kasiska Division of Health Sciences has added three new colleges to help improve communication and collaboration.
The School of Nursing is now the College of Nursing.
The School of Health Professions and Office of Medical and Oral Health have merged to form the College of Health Professions.
The School of Rehabilitation and Communication Sciences is now the College of Rehabilitation and Communication Sciences.
"This new structure will enhance ISU's role as a leader in the health sciences and will facilitate the expansion of health science programs to meet state and industry demand," said ISU Executive Vice President and Provost Laura Woodworth-Ney.
Anita Smith, who joined ISU in August, is the new dean of the College of Nursing. She holds bachelor's and master's degrees from the University of Washington and a doctorate from the University of San Diego. She was previously with the Bureau of Navy Medicine at the Defense Health Headquarters in Falls Church, Virginia, where she held the rank of captain.
Clinical associate professor Laura McKnight is the dean of the College of Health Professions. She joined the university more than 24 years ago and headed ISU's dietetics program for 10 years. In 2017, the Accreditation Council for Education in Nutrition and Dietetics honored her with a regional award for outstanding teaching, mentoring and leadership. A registered dietitian, McKnight holds a master's degree in public health from ISU.
Professor Kathleen Kangas is the dean of the College of Rehabilitation and Communication Sciences. Kangas, who began teaching at ISU more than 28 years ago, chaired the School of Rehabilitation and Communication Sciences, Speech Pathology and Audiology before the reorganization. A speech language pathologist and researcher, she holds a master's degree from University of Washington and a doctorate from Purdue University.
The College of Pharmacy—the fourth college in the KDHS—will operate under the direction of interim dean, Christopher Owens.
"We wanted to pursue this reorganization because we're interested in having the right kind of representation for our growing programs," said Rex Force, ISU vice president for health sciences.
The KDHS submitted a formal request for restructuring to the Idaho State Board of Education in January and received approval in May.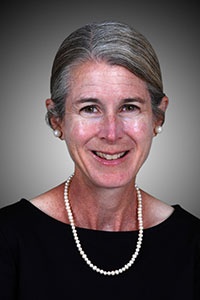 Anita Smith
College of Nursing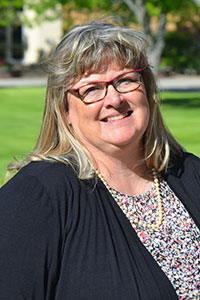 Laura McKight
College of Rehabilitation and
Communication Sciences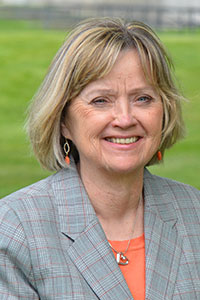 Kathleen Kangas
College of Health Professions
Thiros Named Interim Athletic Director
Idaho State University has named Pauline Thiros interim athletic director. Thiros will lead the day-to-day department operations while a national search is undertaken to permanently hire for the position.
"I am excited to appoint Pauline as interim athletic director," President Kevin Satterlee said. "Pauline has demonstrated a unique ability to lead effective operations and build successful relationships with the community and friends of ISU. Her passion for athletics is evident and will surely translate to a strong focus on the success of our students athletes."
Thiros said her main goal as interim athletic director is to make real and meaningful progress regarding challenges currently facing Idaho State athletics.
"I believe our potential is great," Thiros said. "I love Idaho State, and I am dedicated to elevating our programs and expectations. I'm committed to helping our student-athletes, coaches and staff succeed at the next level."
Thiros, a Pocatello native, has spent the last 23 years working in various roles at ISU and is currently the associate vice president for development. She has previously been the director of planned giving, director of Alumni Relations, and assistant volleyball coach and recruiting coordinator. Thiros successfully directed ISU's first capital campaign, which kicked off in 2001. The campaign raised more than $152 million and resulted in the construction of the Stephens Performing Arts Center.
Thiros came to ISU in 1990 as a walk-on volleyball player, and her teammates voted her captain all four years. She earned Big Sky all-academic honors in her junior and senior seasons and was named the Big Sky Conference Scholar Athlete of the year in 1994. She was inducted into the ISU Sports Hall of Fame in 2006.
Thiros holds a bachelor's degree in health care administration and a master's degree in athletic administration.
ISU will conduct a national search for a permanent athletic director. The hiring process is expected to take four to six months.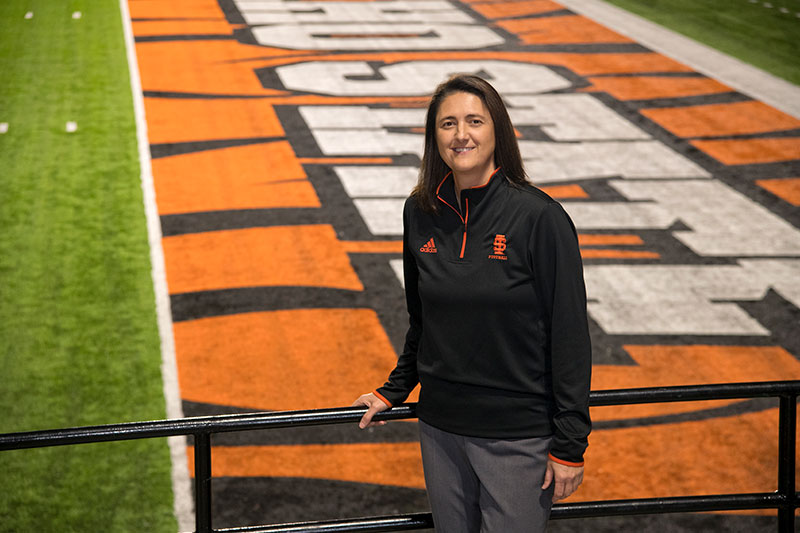 ---
Attebery to Serve as Visiting Professor in Glasgow
Brian Attebery has been selected to serve as Leverhulme Visiting Professor at the University of Glasgow during spring semester of 2019.
The Leverhulme Trust sponsors up to 15 highly competitive visiting professorships a year, bringing scholars in all disciplines and from all over the world to institutions in the United Kingdom. The University of Glasgow offers one of the few graduate programs in fantasy literature and is in the process of creating a Fantasy Research Centre.
"Professor Brian Attebery is the pre-eminent name in the field of fantasy literature, author of three of the most influential monographs in the field and editor of its most respected journal," said the program's director, Robert Maslan. "At a time when the University of Glasgow is seeking to set up the world's first Fantasy Research Centre, professor Attebery's expertise and global network of contacts will be invaluable in helping us to develop a research plan and programme of events for the Centre over the next five years."
As part of Attebery's residency at the university, he will give five lecture/seminars, consult on developing the Research Centre, deliver a keynote address at the annual Glasgow International Fantasy Conference and work on his current research project, which examines the relationship between fantasy and dreaming. He will also travel around Britain, meeting with students and conducting seminars at the Universities of London, Liverpool, Edinburgh, Lancaster and St. Andrews and Anglia Ruskin University in Cambridge.
"I look forward to representing ISU's College of Arts and Letters, which is partially supporting this venture, and the English department, which has quietly grown into one of the strongest and most innovative segments of the University," Attebery said.
Attebery is a professor of English and director of graduate studies in English at ISU. He edits the "Journal of the Fantastic in the Arts," a publication of the International Association for the Fantastic in the Arts. He is the author and editor of numerous books and articles, including "Stories About Stories: Fantasy and the Remaking of Myth" (Oxford UP, 2014) and the Library of America's series of Ursula K. LeGuin editions.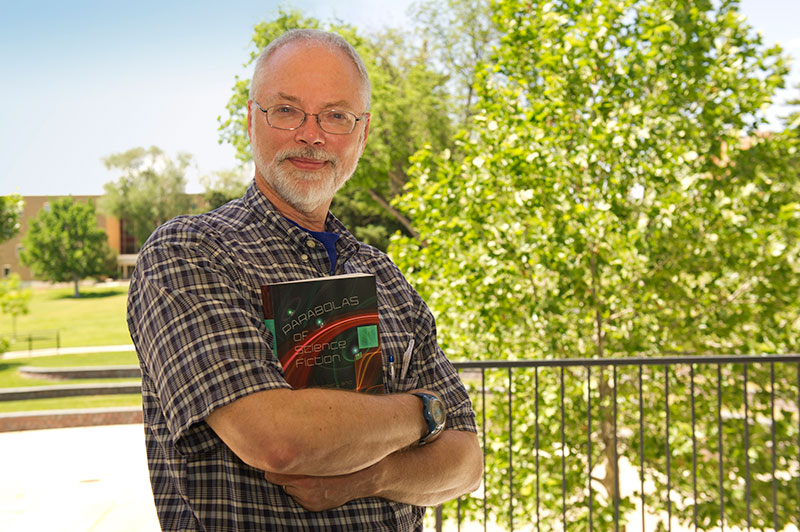 ---
College of Business Executive in Residence
The Idaho State University College of Business has hired its first Executive in Residence, Doug Crabtree, to the health care administration programs.
Crabtree recently retired from the Idaho Falls hospital Eastern Idaho Regional Medical Center (EIRMC) where he worked as the chief executive officer for 18 years. As the program's executive in residence, Crabtree will take the role as instructor in both graduate- and undergraduate-level health care administration and master of health care administration programs.
In this role, Crabtree will also use his extensive background working in the health care administration field to provide academic program directors and the College of Business dean with advice in the initial launch of the master of health care administration program.
"Mr. Crabtree's direct mentoring of students – helping them develop the knowledge, skills and abilities to succeed in the field – will be invaluable," said Tracy Farnsworth, ISU health care administration associate professor and program director.
According to Farnsworth, including health care executives in active, on-campus roles in undergraduate and graduate health care administration programs is becoming more and more common.
"These persons are often experts in the classroom and highly effective at mentoring and coaching the rising generation of health care leaders," Farnsworth said.
Upon his retirement from EIRMC, Crabtree was the longest serving hospital administrator in the state. And, prior to his tenure there, he served as CEO of Riverton Memorial Hospital in Wyoming and chief operating officer and assistant administrator at EIRMC through the early and late 1990's.
---