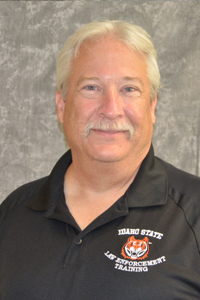 Lynn Case
Coordinator of Law Enforcement Program
208-282-2144
Professional Work Experience
I have an AA in Criminal Justice Administration from Boise State University.
I worked 2 years at the Caldwell ID Police Department as a patrolman. I think I handled every type of call in that short period of time. It was an amazing experience.
I worked 28 years at the Idaho Falls ID Police Department. I also spent my career as a patrolman. I worked in the patrol division as a patrol officer. I worked in the dispatch center as a dispatch supervisor. I worked in the Traffic Division as a DUI Enforcement Specialist, Accident Investigation Specialist and as a general traffic enforcement officer.
I retired from law enforcement in 2014.
I taught defensive tactics at Idaho POST for many years. This continued after retirement from the Idaho Falls PD.
In 2018 I was selected as the 4th Law Enforcement Training Coordinator at Idaho State University in 53 years.
I have over 46 years of martial arts experience and am currently ranked as a 9th Degree Black Belt with the title of GrandMaster. I competed in many international, national and regional martial arts tournaments, running my own school for 30 years.
Career Highlights
While at Caldwell PD I was awarded the Medal of Valor and selected as Citizen of the Year.
At Idaho Falls PD I was awarded the Police Medal for valor, the Purple Heart, and selected as Officer of the Year.
I was Idaho Falls PD's lead DUI Investigator and trainer for about 20 years.
I was Idaho Falls PD's lead accident investigator and trainer for about 10 years.
I was Idaho Falls PD's lead defensive tactics trainer for about 20 years.
I created and presented several Public Service Announcements for Idaho Falls PD.
One of your favorite professional experiences
While not a single experience, I think that my favorite part of law enforcement was the variety of calls. No two calls were EVER the same. It may be the same people, in the same place, but somehow it would always be different. Calls would range from truly hilarious to the most tragic in mere moments. It was always challenging.
Personal Facts
I was born and raised on a fruit farm in the Boise valley and moved to eastern Idaho in 1986. I am married to one of the last angels on earth. I have 3 children and 4 grandchildren. I still enjoy the martial arts and teaching. My most recent passion is riding 4 wheelers and hanging with the grandkids.