Computerized Machining Technology
---
Steve Clay
Clinical Assistant Professor / Coordinator
Professional Experience
Metallurgical Engineer – 18 years
R & D Machinist – 4 years
Instructor, Computerized Machining Technology since 2003
Why I changed careers at age 44:
Most of the 18 years that I spent as a metallurgical engineer, I was working at a couple of small gold and silver mines. While I had the satisfaction of holding around $40,000 of gold/silver ore in hand each week before shipping it out to the refinery, I found that I did not truly enjoy most of the job. What I truly love to do is make things, so when I got the opportunity to go back to school and re-train I picked Machining Technology. I look forward to going to work because I get to build something new virtually every day – and they PAY me to do it. Now I have the chance to teach others, to pass on my passion for creating things. How much better can it get?!
This is a picture of me with my classic 1973 Suzuki GT 750 "Water Buffalo". I bought it new when I first went to college and then re-furbished it when I became a machinist. This past summer I took it on a 3,200 mile ride to visit family around the country.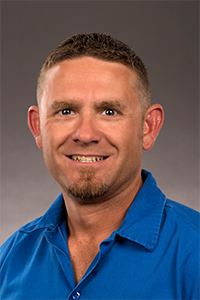 Ashley McCammon
Clinical Instructor
Professional Work Experience
Owner of a High Performance Engine shop – 15 years
Machinist in the nuclear field – 6 years
Instructor at I.S.U. College of Technology Machining Program – 2 years
Career Highlights
Practiced Machining for over 15 years
Have built many types of engines from Briggs & Stratton to Blown Alcohol Hemi's
Built a 1968 Chevrolet C-10 pickup from the frame up along with many other Hot Rods
One of my Favorite Professional Experiences
My favorite professional experiences would have to be the education I received from the College of Tech at ISU. Without my education, I would not have the chance to do something I enjoy and still get paid for it. Machining amazes me every day, being able to see shape form out of raw material. It is something that amazes everyone!