Steve Clay
Master Instructor and Coordinator: Computerized Machining Technology
Professional Experience
Metallurgical Engineer – 18 years
R & D Machinist – 4 years
Instructor, Computerized Machining Technology since 2003
Why I changed careers at age 44:
Most of the 18 years that I spent as a metallurgical engineer, I was working at a couple of small gold and silver mines. While I had the satisfaction of holding around $40,000 of gold/silver ore in hand each week before shipping it out to the refinery, I found that I did not truly enjoy most of the job. What I truly love to do is make things, so when I got the opportunity to go back to school and re-train I picked Machining Technology. I look forward to going to work because I get to build something new virtually every day – and they PAY me to do it. Now I have the chance to teach others, to pass on my passion for creating things. How much better can it get?!
This is a picture of me with my classic 1973 Suzuki GT 750 "Water Buffalo". I bought it new when I first went to college and then re-furbished it when I became a machinist. This past summer I took it on a 3,200 mile ride to visit family around the country.
Ken Moore
Advanced Instructor
Professional Work Experience
Worked in this industry for 28 years
Tool and die maker
Plastic and silicon injection molds
Vacuum molds
Manual and CNC machine experience
Ran EDM, Gun drill and other custom machines
Teaching Machining since 2008
Career Highlights
Working on Patents for new production processes
Pre-production fan jet engines for business aircraft
Created faster, more

ergonomically

production lines for medical devises
Involved in new products that saved lives in the medical arena
Teaching others to build and create using machine tools.
One of my favorite professional experiences…
One of my favorite jobs was when I was delivered a packet of prints and assigned a new project to build a piece of a production line that would help get product to the market sooner. One such machine was a very small laser welder that would improve production and quality of a forceps tool. This tool would help the doctors in procedures to prevent colon cancer. My payday came when one of these improved devices helped my own father. I have also had many wonderful experiences in teaching that could fill a book.
My favorite things outside of work
My family is the most important. Outside of work, I like to spend time with my beautiful companion, children, and especially grandchildren.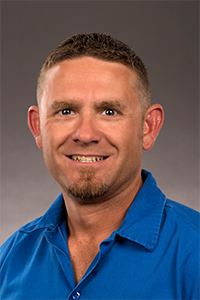 Ashley McCammon
Instructor
Professional Work Experience
Owner of a High Performance Engine shop – 15 years
Machinist in the nuclear field – 6 years
Instructor at I.S.U. College of Technology Machining Program – 2 years
Career Highlights
Practiced Machining for over 15 years
Have built many types of engines from Briggs & Stratton to Blown Alcohol Hemi's
Built a 1968 Chevrolet C-10 pickup from the frame up along with many other Hot Rods
One of my Favorite Professional Experiences
My favorite professional experiences would have to be the education I received from the College of Tech at ISU. Without my education, I would not have the chance to do something I enjoy and still get paid for it. Machining amazes me every day, being able to see shape form out of raw material. It is something that amazes everyone!