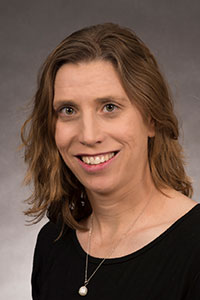 Alycia Cummings, Ph.D., CCC-SLP
Associate Professor
CSD Department Chair
Office: Meridian Health Science Center, Room 808A
Education:
Doctor of Philosophy (Ph.D.) in Language and Communicative Disorders, 2009, University of California, San Diego and San Diego State University
Bachelor of Arts (B.A.) in Psychology, 2000, Stanford University
Research Topics:
Treatment efficacy
EEG/ERP
Developmental speech sound disorders
Lab Description:
In the Brain and Behavior Lab, our main goal is to pinpoint the causes of developmental speech sound disorders. By understanding these causes, we can develop effective intervention plans to help children improve their ability to produce and use sounds. We use a variety of tools, including behavior and electrophysiological analysis, to diagnose and guide our intervention recommendations.
Personal Interests/Hobbies: Walking my dogs, gardening, watching movies, listening to audio books