The Cutting Edge: ISU-Meridian set to open new anatomy and physiology labs
By Chris Gabettas |
Imagine studying anatomy in a state-of-the-art laboratory complex never before seen in Idaho or exploring the function of the human body with 3-D technology.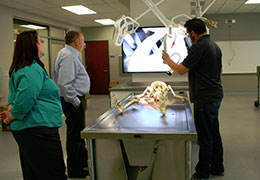 That'll be possible in August when the new L.S. and Aline W. Skaggs Treasure Valley Anatomy and Physiology Laboratories open at the Idaho State University-Meridian Health Science Center west of Boise. Physician assistant studies students will be the first students to use the labs when fall classes start Aug. 24.
"The labs are beautiful and very well-planned with cutting-edge technology. It's almost overwhelming to see the possibilities we have here," said laboratories manager and occupational therapist Lorinda Smith, who joined ISU in May.
Smith, a Ph.D. candidate in rehabilitation science, has taught anatomy and neuroanatomy classes at University of Utah for the past decade.
Construction of the $6-million facility-a combination of state and private money-began last summer. ISU officials say the complex is the first of its kind in Idaho and will provide new opportunities for advanced health-science education and medical research.
The Treasure Valley Anatomy and Physiology Laboratories include a cadaver lab with 12 stations, a bioskills learning center with eight stations, and a virtual anatomy and physiology lab with 3-D stations and Anatomage tables.
The tables display 3-D images of the human body which can be used for medical education, radiology, surgery case review, patient consultation and research, according to the manufacturer.
Smith, who will manage lab operations, says combining the traditional approach to the study of anatomy with virtual tools will enhance the educational experience.
"People learn differently. They have different ways of getting things to click in their heads. Gross anatomy is 3-D heavy and some of us need other types of tools to help us grasp these relationships," she said.
ISU-Meridian Associate Vice President of University Programs Dr. Bessie Katsilometes says the complex will provide an opportunity for seamless education-from high school students learning the effects of tobacco on lungs to health professionals seeking specialized training in new medical procedures.
Thanks to distance-learning technology, the Meridian labs can be linked to ISU classrooms in Pocatello and to high school classrooms throughout the state.