Playing for Kari: Bengal Football Player Overcomes Challenges on and off the Field
By Emily Frandsen |
Jakori Ford's football career had been slowed by the death of a mentor, and a devastating knee injury in junior college. But when he found out he was going to be a father, his football career stopped altogether, and he focused on what was most important.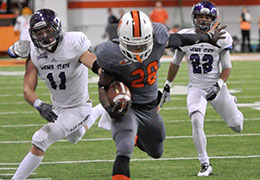 He took care of his daughter, Kari, working two jobs and going to school. It was difficult, he said, working and taking care of a baby.
"I just dropped football completely and did everything I needed to do," Ford said. "All of this stuff just happened at once."
Last fall, however, ISU Bengal fans met Ford on the field once again, as a running back. In the game against Simon Frasier, he ran 144 yards and scored two touchdowns. His mom and Kari were in the stands cheering.
"My daughter was there. My mom was there," he said. "It meant everything."
Ford's road to Idaho State was a bumpy one. Growing up in Southern California with his mom and grandma, he didn't play football until age 14, because his family couldn't afford it. He played football at Natomas High school, where his coach and mentor, Salvador Heredia-Arriaga, was killed in a robbery. Ford earned a scholarship in Heredia-Arriaga's name, and attended American River College. He red-shirted his first year, and, two games into his freshman year, suffered a season-ending knee injury.
The next season, he was told there was a possibility he could play with a brace, but he chose to focus on his daughter. He spent a year rehabilitating and training, but with time off and few game tapes, he wasn't sure about his future in football.
When Idaho State recruiters came to Sacramento to scout one of Ford's friends, however, they found him. He walked on as a running back in the fall, quickly becoming a valuable member of the team.
"I had to go up here and prove myself," he said. "I knew once I got there, I could prove myself and everything would be fine. My daughter really kept me going."
This fall, Ford has earned a scholarship and will back up All-American Xavier Finney. Ford is excited about the season, and has hopes of winning the Big Sky conference.
"I think we have a chance to make a run," he said. "I feel like we have one of the best back fields in the nation. We're going to take care of business."
And in the stands this season will be Ford's daughter, Kari, who will be joining him in Pocatello. He says he wants to give her every opportunity, and he hopes that his renewed football career and education will help. He wants to raise her in a community like Pocatello, where he says he has felt welcomed and accepted.
"She's the one who is going to benefit," he said. "She deserves it. She's so smart. People are going to love her."
Ford is working towards a bachelor's degree in sports management, and he plans to continue on to earn a master's degree at ISU.
"That's my goal. I'm just extremely grateful. God has blessed me," he said. "My story's not going to end at Idaho State. I'm going to keep moving forward."