From the President: Campus Improvements
Greetings, Bengals, At ISU, the summer is anything but quiet. We're busy working on upgrades across our campuses and preparing to welcome the newest class of Bengals in August.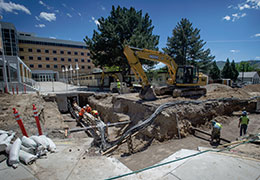 In addition to the state-of-the-art anatomy and physiology lab set to open in Meridian in August, this summer's improvement projects include a major renovation of Martin Luther King Jr. Way between Reed Gym and Eighth Avenue/Caesar Chavez Drive. We're also working on several beautification projects including some additional landscaping and new campus banners featuring our faculty, staff and students.
Students will be coming back to several classroom improvements as well. Twenty classrooms on the Pocatello campus received significant upgrades including new energy-efficient LED lighting, fixtures, paint and carpet. We're also adding a new, much-needed 70-seat classroom in the Gale Life Science Building Complex.
Finally, we're working on several major upgrades to Holt Arena, including adding TV monitors on both the north and south sides of the stadium, which will show live-streamed video of the games and other events taking place under the dome. Restrooms are being renovated, as well as the main athletics, football and sports information offices. We're also upgrading the training room for our student-athletes.
We're excited about all of these facility upgrades, which will not only benefit our students, but also our fans and community. I hope you'll have an opportunity to come back to campus soon and see all of the great things happening at ISU!
Go Bengals!
Arthur C. Vailas, Ph.D., President