ISU engineering students holding fundraiser Jan. 20 to build 4-wheeled assistive vehicle
January 16, 2018
POCATELLO – A "Fundraiser for Outdoor Independence" featuring three bands and food to raise funds for Idaho State University students to build an electric adaptive assistive quadra-cycle will be held from 6 p.m. to midnight on Jan. 20 at Portneuf Valley Brewing in Pocatello.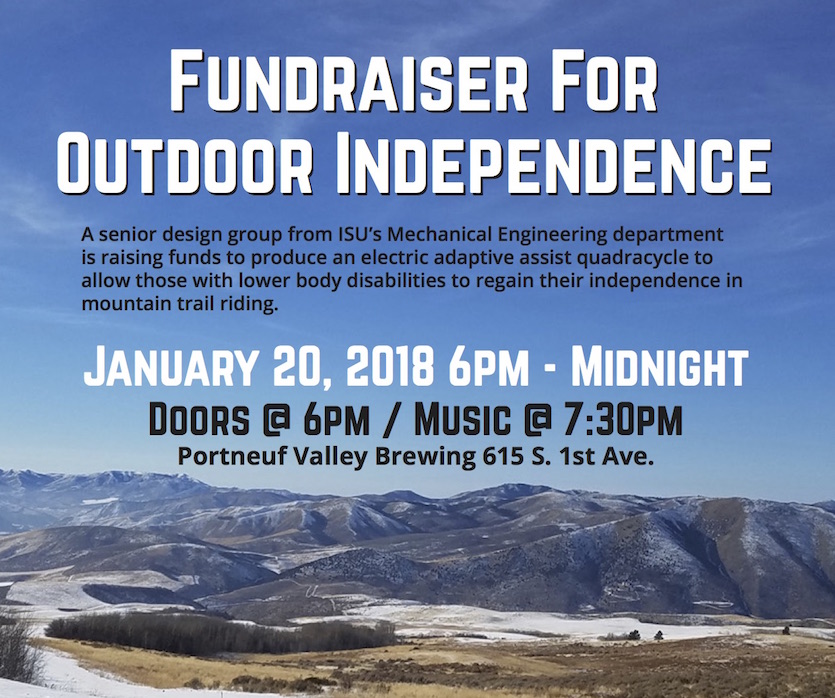 The event will feature three bands, Beneath Us All, 2-inch Gap and Wide Awake at Midnight. A pizza and salad bar will begin at 7 p.m. Cost for the fundraiser is $20 before 9 p.m. and $10 after 9 p.m.
An ISU student mechanical engineering team is designing a four-wheeled assistive vehicle for its senior design project and the team needs to raise about $4,000 to build it. The new lightweight design and technology will make off-road mobility possible for individuals who are not able to use two-wheeled bikes in mountainous areas.
The design allows for the quad to propel itself up the mountain via an electric motor and regenerate electricity during its downhill descent. The team also plans to develop an application that records various riding data.
Donations will provide the funding to purchase the materials necessary to build the prototype. ​The finished quadra-cycle will be donated to the ISU Cooperative Wilderness Handicapped Outdoor Group, CW HOG, a group that helps individuals of all abilities explore the outdoors.
For more information, contact Corey Powell, 910-729-4634 or powecore@isu.edu, visit the website www.supportisu.org/campaigns/quad or visit the Facebook page www.facebook.com/events/163267144292388.