ISU Professor Terry Ownby accepted into Atomic Photographers Guild
February 23, 2017
POCATELLO – Terry Ownby, Idaho State University associate professor of photo media, was recently accepted into the Atomic Photographers Guild (APG), an international collective of more than 30 artists dedicated to making visible all facets of the nuclear age.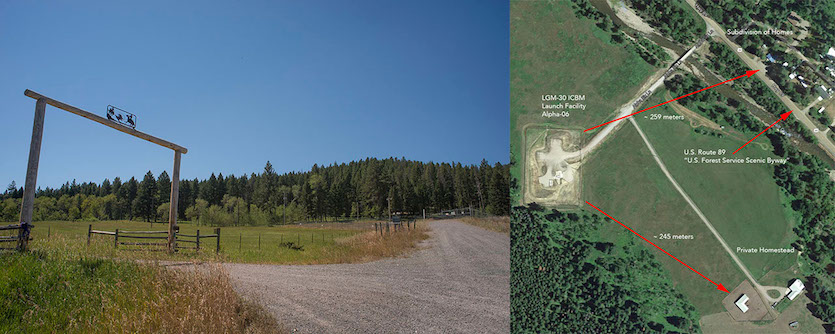 Ownby came across the APG after finishing his "Hidden in Plain View: Human Contact with Nuclear Missiles" project, and decided to submit his photos to be considered for a membership. After corresponding with the founders, and undergoing an international six-person peer-review, Ownby was welcomed in.
The APG documents the history, impact and ongoing legacy of the atomic age including, nuclear weapons mass-production, atomic testing and proliferation, nuclear power, reactor accidents, radioactive waste containment, irradiated landscapes and radiation affected populations.
For the "Hidden in Plain View" project, Ownby used topographic landscape and panoramic photography, and satellite and aerial imagery to show the proximity of houses, schools and businesses next to the missile silos. Missile silos are constructed underground for the storing and launching of nuclear missiles. Using satellite and aerial imagery, Ownby was able to measure how far structures were from the silos, the closest house being just 270 meters (898 feet) away.
Ownby was in the Air Force and spent time at the Malmstrom Air Force Base in Great Falls, Montana, as a young man. He was a budding photographer, and always took pictures, some including atomic remnants of the Cold War. Now as a professional photographer, he wanted to go back to Great Falls and conduct a photo series on the landscape of Montana. His first thought was to take traditional landscape photos, but once there he altered the concept to show the normal human activity that took place right next to these missile silos.
Ownby will present a paper at the Geomedia Conference in Karlstad, Sweden, on May 9-12 on his current work with "Hidden in Plain View." While doing research for his paper, Ownby came across a passage in the book "Dead Cities: And Other Tales," where author Mike Davis said the APG is arguably the most important social-documentary collaboration since the 1930s.
"It is a huge honor to be a member of the Guild," Ownby said. "I am humbled to be included with these photographers. I didn't fully understand the importance or depth of this group upon submitting work."
Ownby's photo series "Atomic Remnants" is also featured on the APG website. The series of photos shows the atomic era both past and present.