Idaho Humanities Council to honor ISU's Susan Swetnam for Outstanding Achievement in the Humanities
February 23, 2017
The Idaho Humanities Council will honor Idaho State University Professor Emeritus Susan Swetnam with IHC's Award for "Outstanding Achievement in the Humanities" at a wine/dessert reception and award ceremony on Wednesday, March 29, 7 p.m., in ISU's L.E. and Thelma E. Stephens Performing Arts Center, Marshall Rotunda.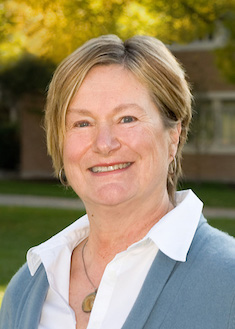 The award, which includes a $1,000 honorarium, will be presented to Swetnam, honoring her career in teaching, scholarship, and personal writing, and her devotion to the public humanities for more than 30 years.
Swetnam taught in ISU's Department of English and Philosophy from 1979 until her retirement in 2013, during that time recognized for outstanding teaching, research, and public service. Over the years she has authored numerous articles and seven books, including both personal essays and scholarship, most recently A Season of Little Sacraments (Liturgical Press, 2016) and Books, Bluster, and Bounty (Utah State University Press), which won the Idaho Library Association's award for Idaho Book of the Year in 2012.
Over the years, Swetnam has served as a scholar in numerous IHC programs, developing her own programs, working as a consultant on humanities projects for many other organizations, and traveling the state as a lecturer and moderator for scores of "Let's Talk About It Programs" in public libraries of some of Idaho's smallest communities.
On the national level, she has served as a consultant and grant reviewer for the National Endowment for the Humanities, and as an evaluator of humanities programs in several other states.
Currently she is working on a new book while establishing her own small business, Balsamroot Massage. She is the widow of the poet and Wordsworth scholar Ford Swetnam, and she remains committed to making the humanities more accessible to the general public.
Anyone interested in attending the March 29 reception and award ceremony for Susan Swetnam should RSVP to the Idaho Humanities Council by March 6 at (208) 345-5346, or at debra@idahohumanities.org.
The Idaho Humanities Council is a statewide, nonprofit partner of the National Endowment for the Humanities dedicated to promoting greater public understanding of literature, history, ethics, law, and other humanities disciplines.
The Council has presented its award for "Outstanding Achievement in the Humanities" annually since 1986. Previous recipients of the award include independent historian Keith Petersen, Twin Falls anthropologist James Woods, Idaho Governor Robert E. Smylie, College of Idaho Professor Louie Attebery, State Historian Merle Wells, Constitution scholar David Adler, Idaho historian Arthur Hart, Moscow writer Mary Clearman Blew, ISU English Professor Brian Atteberry, Idaho poet William Studebaker, Nez Perce elder Horace Axtell, former Lewis-Clark State College English Professor Keith Browning, ISU History Professor Ron Hatzenbuehler, Basque Museum and Cultural Center Director Patty Miller, Boise Independent School District Administrator and history teacher Russ Heller, LCSC anthropologist Alan Marshall, Idaho Public Television's Peter Morrill, College of Idaho archivist and photographer Jan Boles, Idaho State Historical Society Publications Editor Judy Austin, and others.