Gift of 'Valentine' sculpture unveiled at Idaho State University showing a lot of love
September 29, 2017
POCATELLO – If Bill Byrne's college roommate had been a little taller in 1963, Idaho State University might never have received the beautiful life-sized bronze "Valentine" sculpture by renowned artist George Lundeen, which was unveiled on campus Thursday, Sept. 29.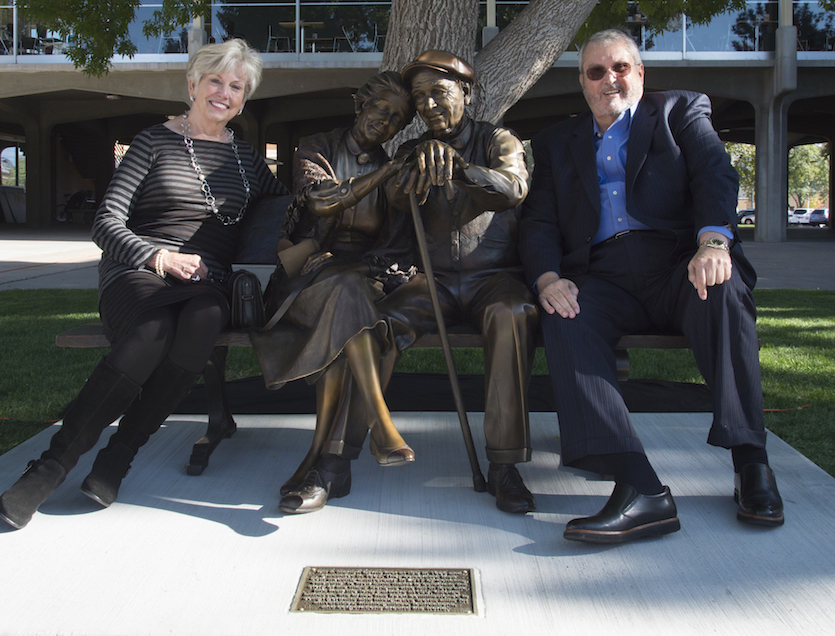 The sculpture is of an older couple sitting on a bench, depicting the same couple that Lundeen featured on his first life-sized sculpture from many years ago, showing how the couple had grown old together. It was donated to ISU by alumni Bill and Marilyn Byrne, who met at ISU, to celebrate the story of the many Bengals who fall in love and find their lifelong partners at ISU. Lundeen has been commissioned to sculpt portraits and interpretive works alike for universities, municipalities, foundations and corporations around the world.
"The gift of 'Valentine' is a reflection of the feelings the Byrnes have of their school," said Lundeen, in a letter read at a dedication ceremony. "If my intent to capture the love of two people in bronze could match the love between Bill and Marilyn, I know it was a successful work. The 'Valentine' has found a wonderful home at Idaho State University."
But that love might not had happened if Marilyn was a bit shorter. Speaking at the ceremony, Bill told a story about how the couple met during a hay ride up to Scout Mountain when Marilyn was paired with his roommate.
"He came up to me and said 'we have to trade, she's taller than me,'" Bill said. "And that's how I met Marilyn and she didn't like me at all."
He said it took him several months to convince her to date him and then he relayed a humorous story about their courtship that occurred at Graveley Hall, which was in sight of the dedication ceremony that took place at the new sculpture located near the Hutchinson Quadrangle Amphitheater by the Pond Student Union Hypostyle. He'd gotten Marilyn back to what was then a dormitory, right before it was closed for curfew.
"Marilyn went up to her window and I'm standing outside talking to her and all of a sudden I get doused with a pail of water from someone on one of the other floors who wanted me to shut and up so they could go to sleep," Bill said.
The water didn't douse the relationship, however, as the couple's courtship resulted in their wedding in 1967, the same year they graduated from ISU. Their 50th wedding anniversary motivated them to make the gift this year.
"I think what George's gift is as an artist is how he can capture emotion and the spirit of life," Marilyn said. "And I felt that and Bill felt that from the first time we saw one of his sculptures and we've seen many more since that time. So we are thrilled to share this one with Idaho State, with the campus community and all of its alumni and students."
ISU officials expressed their appreciation for the gift.
"The symbolism in this particular piece of art says a lot that words can't describe," said Arthur C. Vailas, ISU president. "When you see it, it will be really close to your heart. I'd like to reiterate our deepest thanks."
Marilyn Kent Byrne is being honored this year at ISU Homecoming with the Distinguished Alumna Award. She graduated from ISU in 1967 after being named "Outstanding Junior Woman." As an educator, she worked with students from sixth to 12th grade as a teacher, assistant principal and principal. After receiving her Ph.D. in mid-life, she began her career in higher education as a professor and then Dean of Graduate Studies in Educational Leadership at Doane University in Lincoln, Nebraska.
Her honors include the 1999 ISU College of Education Professional Achievement Award, as well as being the namesake of the Marilyn Kent Byrne Student Success Center at Texas A&M in the College of Education & Human Development. In addition she co-founded Pink Alliance, a nonprofit providing newly identified breast cancer patients with information, support and financial assistance.
Bill Byrne grew up in Rigby. He earned two degrees at Idaho State University, his BA in business in 1967 and his MBA in 1971. He also was student body president at ISU. Bill served as president of the National Association of Collegiate Directors of Athletics (NACDA) in 1991 and 1992. He is a member of the NCAA Championships Cabinet and a member of the NCAA Football Committee.
Bill's career started as director of alumni rela­tions at Idaho State University. Since then he has served as athletic director at the University of New Mexico, San Diego State University, the University of Oregon and the University of Nebraska. Currently, he is the athletic director at Texas A&M University in College Station, Texas.
"This marvelous gift by Marilyn and Bill Byrne simply adds to an extraordinary legacy the Byrne and Kent families are leaving for Idaho State University," said Kent Tingey, ISU vice president for advancement. "Beginning with Clarence and Velma Byrne, these families have given selflessly and continuously of their time, talent and resources to the tremendous benefit of ISU. We are profoundly grateful to Marilyn and Bill for this meaningful gift, and for sharing Homecoming 2017 with us."