Traveling in TRAIL: Rural School Practicum Opens Future Teachers Minds
June 1, 2023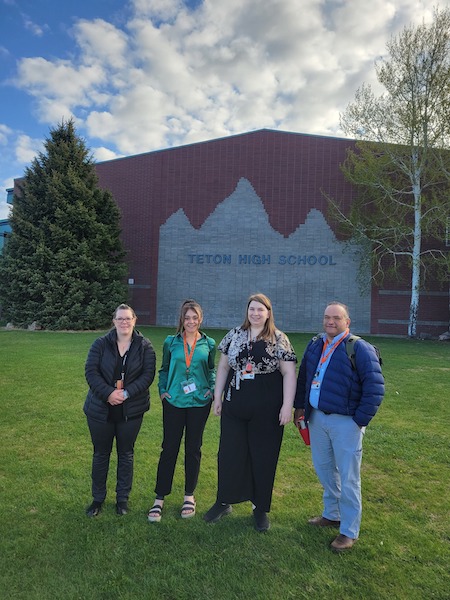 Twelve Idaho State University College of Education students had the opportunity to participate in the inaugural Teaching in Rural Areas Immersion Learning (TRAIL) Experience in May 2023.
ISU Teaching and Educational Studies professors, Dr. Amanda Eller and Suzanne Beasterfield, were awarded a College of Education Dean's Excellence Grant to create and take students on the TRAIL Experience, which provided them with first-hand knowledge of teaching in a rural remote Idaho school district through a mix of preparatory coursework and a week-long rural immersion field trip. Teacher candidates were provided the opportunity to apply to participate in TRAIL, and those selected enrolled in the one-credit TRAIL Experience course, EDUC 4485 Independent Problems in Education. This year's TRAIL Experience student participants had the opportunity to learn about teaching within the Teton School District in Driggs, Idaho. Each candidate spent four days learning, assisting, and teaching in either the elementary, middle, or high school, paired with a teacher mentor who helped them understand the benefits of teaching and living in a rural remote school district.
"My favorite part of TRAIL was the connections I got to make with my peers," said one participant. "It was great getting to talk with them about education and hear their thoughts about the world of education. I would recommend this trip to anyone who wants to see what it's like to teach in a rural place and get to know some other amazing teachers along the way."
Rural and remote communities tend to have a difficult time attracting and retaining teachers for a number of reasons. As the teacher shortage in Idaho continues to grow, experiences such as TRAIL are critical to allowing future teachers to be immersed in learning about teaching students from rural areas and making their lives in those rural areas.
To learn more about the ISU Teaching and Educational Studies Department, please visit isu.edu/tes.
---
Categories: