Paying it Forward: First-Generation Graduate Plans to Help Next Generation
May 2, 2023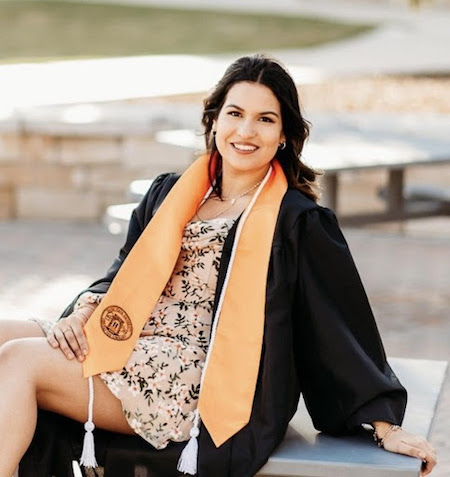 When Alexis Navarrete first started elementary school in American Falls, she spoke only Spanish. She still remembers struggling to learn a new language while keeping up with her schoolwork, and the isolating feelings that can come with it.
On Saturday, Navarrete will be graduating from Idaho State University with a bachelor's degree in elementary education, with endorsements in English as a Second Language (ESL) and history as well as minors in Spanish and history. This spring, she returned to American Falls as a student teacher at Hillcrest Elementary. After graduation, she hopes to begin a career in the school district where she once struggled, and let other students know they are not alone.
"I know the struggles ESL students go through in their education. I want to remind my future students that I am just like them, and they can accomplish anything they put their minds to," she said.
Over the past five years, Idaho State University has become part of Navarrete's identity. Coming from a small, rural town and being the first in her family to go to college, she describes her experience as a challenging start that pushed her out of her comfort zone. Now, as she is nearing the end of her educational journey, she is excited to be starting a new chapter in her life, one that will make her family very proud.
"It was not easy navigating through college, but luckily I had a great support system on campus and at home from my family," she said.
The faculty who have taught Navarrete are impressed with her perseverance, and can't wait to see what she accomplishes in the future.
"As a student in my classes, Alexis was always so focused and dedicated," said Dr. Cory A Bennett, one of her former professors. "It was clear, early on, that the implications of learning to become a teacher went well beyond her own success and accomplishments; she knew she would be changing other people's lives, too."
---
Categories: