Mustafa Mashal Selected as Center for Advanced Energy Studies Associate Director
January 23, 2023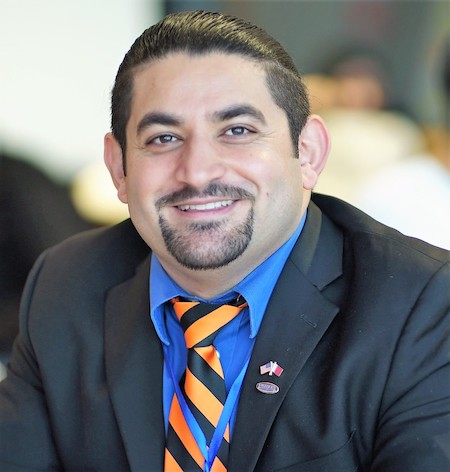 Idaho State University Associate Professor of Civil and Environmental Engineering Mustafa Mashal has been named ISU's associate director at the Center for Advanced Energy Studies (CAES).
As associate director, Mashal is responsible for advancing ISU's CAES-related research projects, serving on the center's Executive Board, helping to direct resources and support for collaborative research – both interdisciplinary and inter-institutional, and more.
"Dr. Mashal seeks innovative and imaginative ways to solve problems, and his expertise and wide-ranging interests will expand ISU's partnerships with Idaho National Laboratory and other universities in our region and beyond," said Martin Blair, vice president for research at Idaho State University. "In the classroom and laboratory, Dr. Mashal works closely with students to help them learn while positively contributing to energy-related research."
Mashal has been no stranger to the workings of CAES. He's earned multiple CAES program development grants, including one for what would later become the Disaster Response Complex (DRC). Housed in Pocatello, the DRC can host real-world emergency and search and rescue scenarios for local, state, and federal entities. The DRC was later awarded a $1.1 million Idaho Global Entrepreneurial Mission - Higher Education Research Council grant, with CAES and Idaho National Laboratory as collaborators. Additionally, Mashal was elected a CAES Fellow in 2020, and in 2019 and 2021, he was a member of the CAES Summer Visiting Faculty Program.
"I have been collaborating with CAES since 2016, and I have seen firsthand how it has provided opportunities for our students and researchers at ISU," Mashal said. "For example, the Disaster Response Complex was born from a CAES collaboration, and since opening in late 2020, more than 1,000 responders from around the region and across the country have trained at the DRC. It also provided numerous research and practical hands-on opportunities for more than a dozen ISU students."
Mashal started in his associate director role remotely in early January. He is currently on sabbatical until August 2023 in Doha, Qatar serving as a Fulbright U.S. Scholar at Qatar University. The U.S. Department of State recently approved for him to deliver a weeklong civil engineering seminar in March at the University of Jordan in Amman, Jordan, as part of the Fulbright Regional Travel Program. Before his time in Qatar, he held the Visiting Erskine Fellowship at the University of Canterbury in New Zealand. He will return to Idaho in August 2023.
"I take a personal interest in helping others because when I needed guidance during my career, there has been someone who has helped me," said Mashal. "I look forward to continuing to serve ISU in this capacity by building on our partnerships with Idaho National Laboratory and fellow CAES Universities and helping ISU faculty, students, and staff involved in CAES achieve their research goals."
Mashal succeeds Dave Rodgers, who retired in December after spending over three years as associate director.
The Center for Advanced Energy Studies is a research and education consortium consisting of Idaho National Laboratory, the public research universities of Idaho: Boise State University, Idaho State University and the University of Idaho and industry. Through this collaboration, CAES participants work to solve critical energy challenges while providing workforce training opportunities and encouraging economic development in communities throughout the region. CAES accomplishes this through cutting-edge research and programs and services that pair university students with INL researchers and industry partners.
For more information on the research happening at ISU, visit isu.edu/research.
---
Categories: