More Than 2,000 Graduates to be Recognized at Saturday's Commencement
May 4, 2023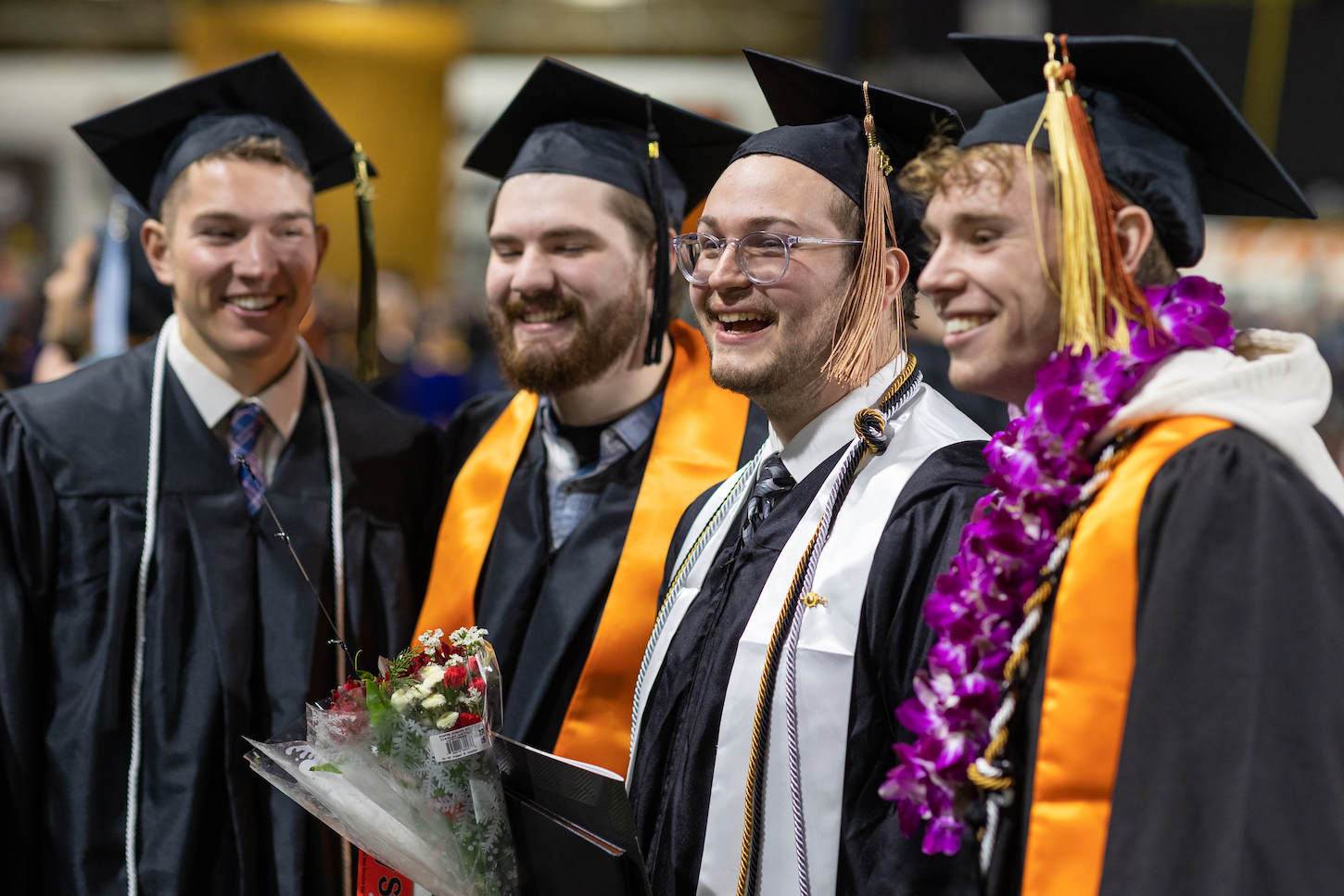 A total of 2,132 spring and summer 2023 graduates will receive 2,278 degrees and certificates during Idaho State University's annual spring commencement ceremonies on May 6.
Graduates will be recognized at three ceremonies. This year's commencement ceremonies will be held in Reed Gymnasium due to the ongoing renovation at Holt Arena. Because of limited space, tickets are require to attend in-person, but all ceremonies will be streamed live on the University's YouTube channel.
The breakdown of degrees and certificates includes 39 Doctor of Philosophy degrees, five Doctor of Education degrees, seven Doctor of Audiology degrees, six Doctor of Arts degrees, 23 Doctor of Nursing Practice degrees, 43 Doctor of Physical Therapy degrees, 80 Doctor of Pharmacy degrees, 11 Educational Specialist degrees, 470 master's degrees, 119 academic certificates, 836 bachelor's degrees, 466 associate degrees, and 133 certificates from the College of Technology.
"I am proud of each and every graduate," said Idaho State President Satterlee. "Commencement is a culmination of years of hard work and perseverance. On Saturday, we will celebrate thousands of Bengals who have reached a life-changing milestone and will now go out into the world well prepared for the future."
Claire Dye will perform the National Anthem at the ceremonies.
Graduate Savannah Crow will speak at the 10 a.m. ceremony, graduate Alexis Parra will speak at the 2 p.m. ceremony, and graduate Caleb Wilson will speak at the 6 p.m. ceremony. Idaho State Board of Education member and 1991 graduate Cindy Siddoway will offer remarks.
Satterlee will greet the audience and confer degrees. Names will be read by Geoffrey Bennett. The alma mater hymn will be performed by Miren Gabiola, Claire Dye, John DeRouen and Maximo Orr.
Several will be honored at the 2023 Commencement ceremonies.
Three Distinguished Faculty award winners will be recognized — Distinguished Researcher Shannon Kobs Nawotniak, Distinguished Teaching Tyler Burch, and Distinguished Service Dani Moffit.
Alumni Professional Achievement Award recipients for 2023 are:
Fine Arts and Humanities: Thomas Neel

Social and Behavioral Sciences: Bironyi A. Sadiki

College of Business: Tamela Gates May

College of Education: Alicia Hays

College of Health: Lisa Moravec

College of Pharmacy: Anna Ratka

College of Science and Engineering: Curtis Smith

College of Technology: Corey Lewis

Graduate School: Randy Clemons
Outstanding Student Award recipients for 2023 are:
College of Arts and Letters: Eric Morris, Maya Peters Greño

College of Business: Zane Webb

College of Education: Shelby Killian

College of Health: Alexis Mingo, Olivia Filicetti

College of Pharmacy: Liv Swonger

College of Science and Engineering: Austin Robison, Claire Wasniewski, Cooper Dastrup

College of Technology: Ellen Jenkins

Graduate School: Elizabeth Mawlam, Wilson Trusty
More information on commencement is available online at http://isu.edu/commencement/.
---
Categories: