Jessy Sears Named CPI Supervisor of the Semester
January 17, 2023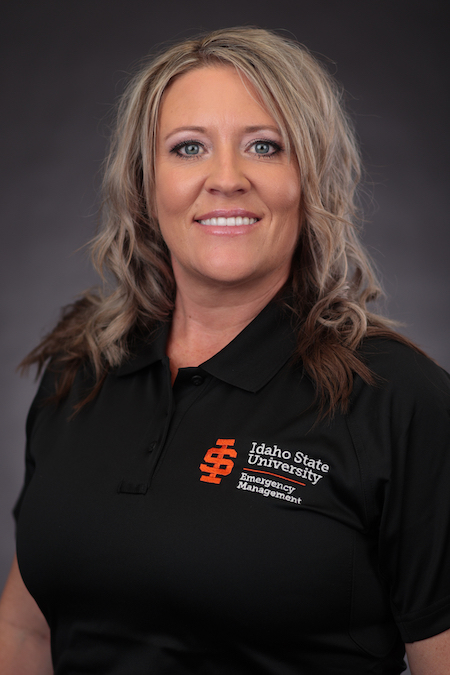 Jessy Sears has been named the Fall 2022 CPI Supervisor of the Semester.
Sears is the emergency manager for Idaho State University under the Department of Public Safety.
"The best part about being a CPI supervisor is the amazing enthusiasm the students bring. It's a reminder that what I do is important," Sears said. "I love to see the growth among our students and the practical application and real-world experience. The CPIs that I supervise have been able to take their learning in the classroom and transfer it in their positions. I feel this gives the opportunity to be the tie between the academic world and the practitioner world."
Sears was nominated by ISU student Parker Williams, a Homeland Security and Emergency Management major. During his internship, Williams has networked with other agencies in the area pertaining to homeland security and emergency management. He also completed Federal Emergency Management Agency (FEMA) courses.
"Jessy Sears has let me take the lead on some projects and allowed me to be her number two if there is a meeting she cannot attend," Williams said. "She has let me gain hands-on experience conducting emergency management tasks on behalf of her and taught me so many leadership qualities."
Sears is originally from Preston, Idaho and worked full time for the Transportation Security
Administration (TSA) while completing her degree. She worked in Emergency Management for Southeast Idaho District Health prior to and during the beginning of the COVID pandemic and worked closely with ISU during that time.
She made her transition to ISU about two years ago after seeing how people at Idaho State gave back during COVID. The students that she has worked with through the CPI program have helped complete the COVID after-action report, taken FEMA courses, and met with stakeholders at both the state and federal levels.
This semester, the Career Path Internship program received over 80 nominations for the CPI Supervisor of the Semester award. In addition to the grand prize winner, the CPI Office selected five runners up: Jeremy Brooks - Biology, JoAnn Martinez – Masters in Social Work (MSW) Program, Char Byington – Nutrition and Dietetics, Gavin Monteath – Gateway Transitional Care Facility, and Dr. Sarah Robley - History.
"Our CPI interns wouldn't gain such life-altering internships without their exceptional supervisors," said Emily Jahsman, associate director of the ISU Career Center. "We know that with strong mentorship and support from supervisors, ISU students exit our internship program with skills that help them succeed after graduation."
Operating in its twelfth year, the CPI program provides approximately 1,000 paid internship opportunities annually to ISU students. CPI internships provide career-related experiences to help students confirm their academic pursuits, gain valuable work experience, and prepare them for life after graduation. For more information about the CPI program visit isu.edu/career.
---
Categories: