ISU's Quince Mattick To Graduate Cum Laude, Guide Dog at her Side
May 1, 2023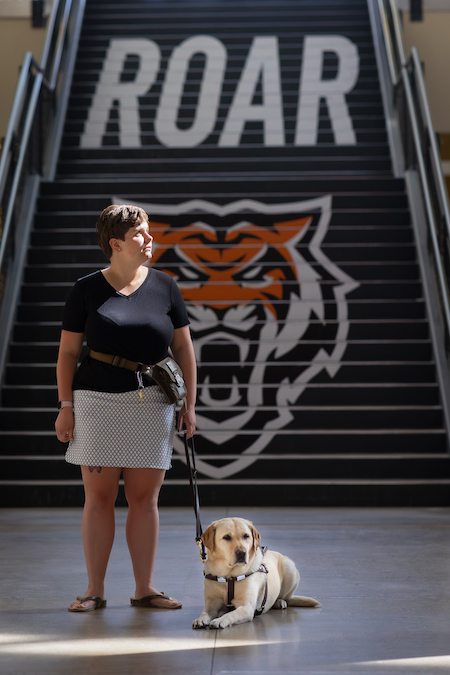 ­When Quincie Mattick receives her diploma with honors on May 6 at Idaho State University Spring 2023 Commencement at Reed Gymnasium, she'll be accompanied by her loving and nearly ever-present companion, Tessa, her service dog.
Mattick, a native of Colorado Springs, Colorado who has been blind since birth, will receive a Bachelor of Science Degree in Health Professions with Cum Laude Honors.
Tessa, a golden Labrador retriever who will be wearing her own specially-designed graduation cap, will receive a scroll containing an honorary certificate recognizing her for the assistance she provided.
"She's been very helpful. It's been nice living on campus with her," said Mattick, who has lived in the Rendezvous Center for the four years she's pursued her degree at ISU. "She gets me from point A to point B, I mean really quickly. She's been with me to all my classes. I really thought it was going to be harder than it was living with her on campus and it wasn't.
"And, of course," Mattick continued, "she is a safety companion for me, protecting me from cars on the street and things, and she's going to find many things. She finds stairs, doors, elevators, escalators, and everything else."
Mattick, who will begin pursuing a master's degree in social work at ISU next year, said she picked ISU because of the level of disability services ISU offers compared to the four or five other schools she visited.
"I mean, the support services here are good," Mattick said. "That's why I picked ISU."
ISU Disability Services assembled a team to assist Mattick. That team provided her with notetakers and tutors, scheduled exams, and converted all of her class materials – everything from technical textbooks and tests to PowerPoints and class readings – to either braille or to a screen reader-accessible format.
"My staff and I have provided accommodations and support for Quincie since she started school in the fall of 2019," said Karina Mason Rorris, director of ISU Disability Services and the ISU Electronic and Information Technology Committee. "However, our relationship with her expands beyond that. She and her service animal Tessa are like family here at Disability Services and we feel so blessed to have had her here."
Rorris said it has been an amazing opportunity to watch Mattick grow academically and personally and she's witnessed firsthand all the hard work Quincie has put into her education, especially when faced with environmental and educational barriers.
"She's been instrumental in helping us remove barriers and advocate for necessary changes. We've learned so much from her," Rorris said. "The knowledge gained allows us an amazing opportunity to better serve her and others in the future."
The most challenging classes both for her and the Disability Services team included statistics, chemistry, anatomy and physiology, and health science classes, whose class materials included complex images, diagrams, and formulas that had to be conveyed tactilely in braille or by other means.
"Sometimes we got really creative," Mattick said. "One time he (one of her tutors, Sal Cano, a current occupational therapy student at ISU) literally used a piece of corkboard and rubber bands to make a graph, and it worked. Another time we made some models out of paper towels and tape. It was creative and it worked."
She said professors, instructors, and administrators were responsive to her needs.
"Overall, the faculty here was really good about asking questions about how to make it better for you, and it is really good to have a working, collaborative relationship with faculty," she said.
She also said ISU Housing, from administrators to resident assistants, was responsive to her needs.
Mattick has two primary sets of advice for other people with disabilities who may be pursuing a college degree: 1) don't take "no" for an answer; and, 2) take it one day, or even one assignment at a time.
"Don't let people tell you, 'no, you can't'," Mattick said. "So many people have said you can't do that because of 'X' disability, but tell them 'no, I can do it.'"
Mattick's ability to say "no" to the perceived limits of her disability has helped her excel in other things. For example, she is a first-degree black belt in judo and has competed with the U.S. Paralympic Team, including competitions in Japan, Brazil, and Germany.
Her time at ISU hasn't been all work and no play. Some of her favorite student life memories include:
ISU Housing events such as a piñata party and regularly held floor dinners "when everybody on the floor gets together and eats dinner. It's really fun to meet new people"; and
Chi Alpha Student Society activities including annual group events such as fall retreats where they went camping at places such as Bear Lake, and a spring trip to Moab.
Mattick, who was born in Canada, is a graduate of the Colorado School for the Deaf and the Blind.
---
Categories: