ISU Hosts State's Vex Robotics Competition
March 9, 2023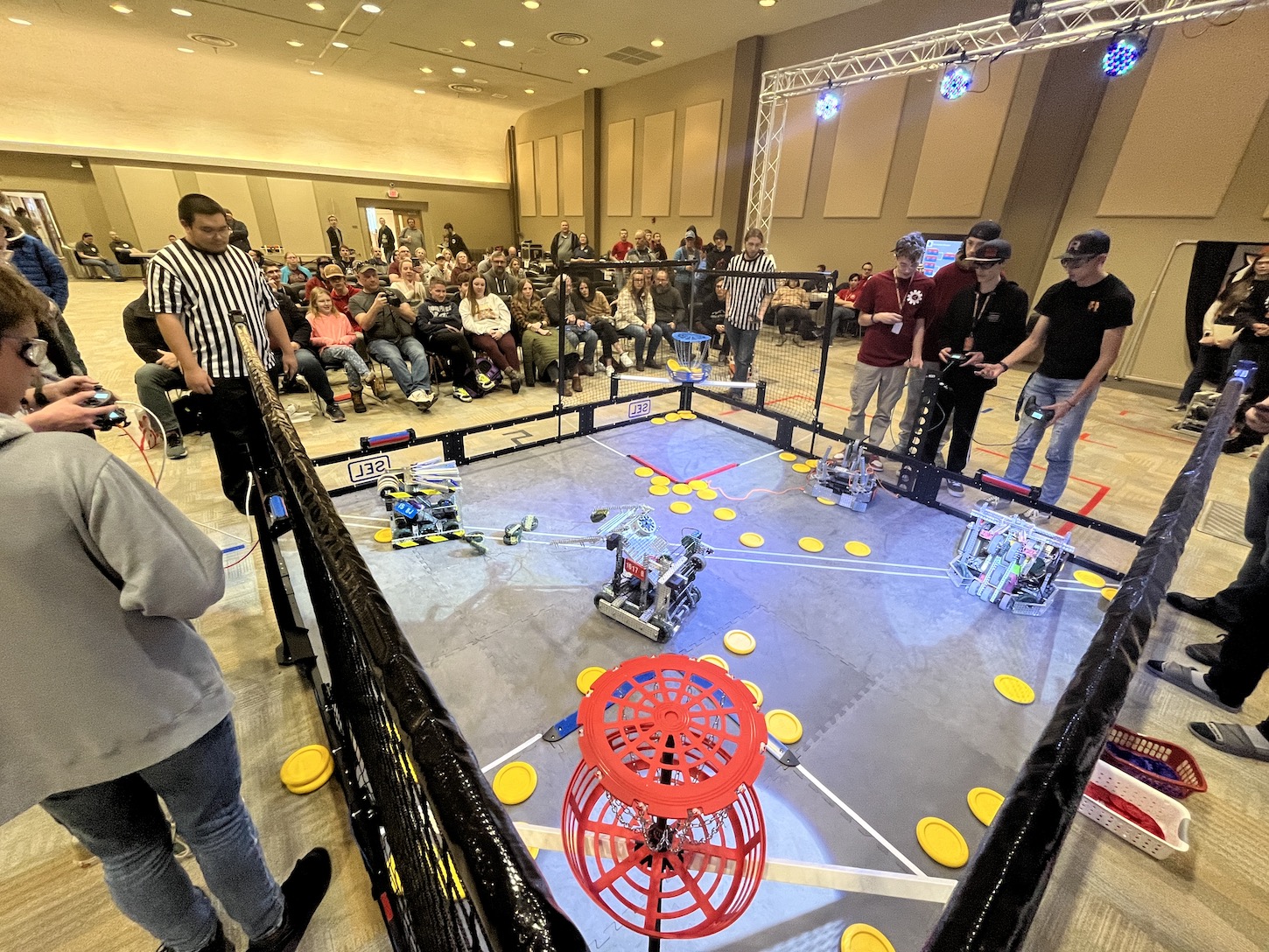 High school students from across Idaho converged on the Idaho State University campus Friday to compete in the VEX Robotics State Finals. The event saw 32 teams, consisting of 128 students, compete for a chance to advance to the world championship next month.
"We are really excited to have these students here," said Shane Slack, program coordinator for the ISU College of Technology's Robotics and Communications Systems Engineering Technology Program. "These are the top robotics students in the state of Idaho and it's always good to see students involved in a growing STEM field. Many employers look specifically for future employees who have participated in this competition"
The VEX Robotics competition is designed to help students create an identity as a STEM learner and gain valuable soft skills, such as communication, collaboration and time-management in a fun and authentic way. This year's game, called Spin Up, looks similar to frisbee golf and is played in a specialized arena between two alliances composed of two or three teams each. The goal is to outscore the opposing alliance by using robots to toss discs into goals and interacting with other elements of the arena to gain points.
In the end, the victors of the day came from an alliance consisting of the Vallivue High School (Caldwell, ID) and Nampa Christian Schools teams. These young innovators will now move on to the VEX Robotics World Championship.
Vallivue High School also received this year's Excellence Award and Nampa Christian Schools received the Robot Skills Champion Award. Compass Public Charter School (Meridian, ID) received the Design Award and will be joining the tournament champions in the world championship. Additionally, Caldwell Senior High School received this year's Judges Award.
The VEX Robotics World Championship will be held in Dallas, Texas from April 25 - May 4, 2023, and will see the top teams from around the world compete for the title.
---
Categories: