ISU Department of Theatre and Students Recognized with Honors for Marisol
February 16, 2023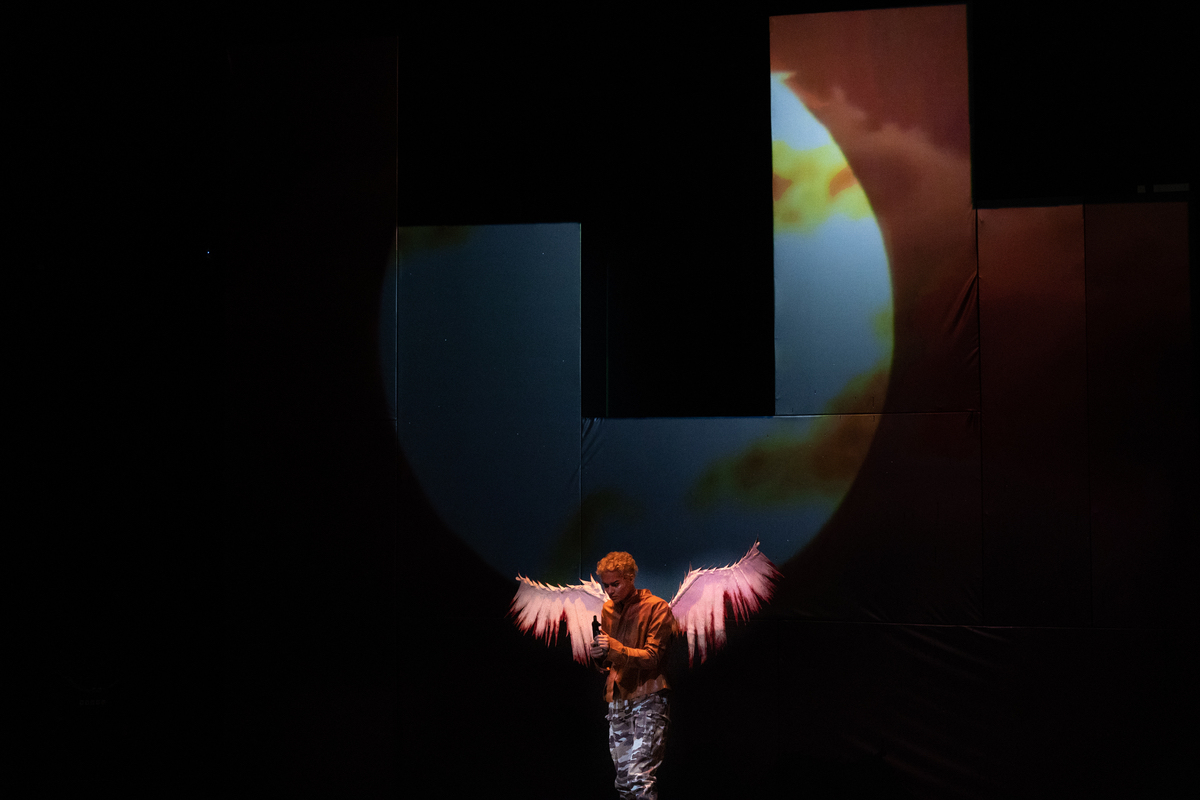 The Idaho State University Department of Theatre received a special honor by being invited to perform at the Kennedy Center American College Theater Festival Conference (KCACTF) on February 20 for their 2022 Fall production of Marisol.
KCACTF is a national theater program with a network of more than 600 academic institutions which serves to improve the quality of college theater in the United States. Theater departments and student artists showcase their work and receive outside assessment by KCACTF respondents.
ISU Theatre Department Chair Tara Young says that "the adjudication process is used to critically evaluate ISU theatre performances and is a mechanism to assess if the department is hitting the national standard."
The department will present their performance virtually, by streaming one of the performances recorded during the live show in the fall.
Faculty members credit the show's success to the collaborative effort of all involved, importantly students.
"There was a great sense of collaboration on this project," Young says. This was a contributing factor to being selected. When your end result speaks all for itself, you can usually see how collaborative the project has been. The entire world of the play was so immersive."
Paul Yeates, Technical Director, played a critical role in the success of the show by obtaining a Bistline grant of $10,000 to bring Professor of Design from Utah State University, Josh Legate, as a guest projections designer.
Yeates says having a projections designer and specialized equipment made a major impact on the production.
"It raised the show to a different level than we've ever done, another level for telling the story," Yeates says. "It was nice to watch and see something that's relatively new in theatre, be a part of our production."
Yeates mentored three student designers through the production process: Lighting Designer, Domanick Rose; Scenic Designer, Michelle Ludlow; and Stage Manager, Harmoni Thompson.
"What KCACTF really liked is that so much was done by students," Yeates says. "They really enjoyed that a majority of students were involved with props, scenic, and lighting. The storytelling was so dynamic."
"It's fun to watch the students' creativity flow and what they have in their mind become realized on the stage," Yeates says. "You're watching a young person with a vision in their head. To see that excitement as parts of the scene came to be was really rewarding."
Young created the costumes for the production, and faculty member Ananda Keator says that work on the costumes was largely student-driven.
"I'm very lucky that our student workers are able to do a lot of the work themselves," Keator says, "which is where we want them so they can go be great in other places."
A number of students were recognized with individual Irene Ryan nominations, which highlight great student work: Emily Lucio, Actor for Marisol; Meritorious Achievement Award for Lighting Design, Domanick Rose; Meritorious Achievement Award for Scenic Design, Michelle Ludlow; and Meritorious Achievement Award for Stage Management, Harmoni Thompson.
Ludlow worked closely with Yeates and Legate through the process. She says she worked with Legate on details such as colors and shapes of the set. They considered projections being on the floor, but that didn't end up working out.
"It was a really big learning experience of trying to figure out how to put things together," says Ludlow. "Paul, my mentor, was very helpful. I realized how much goes into this, and how much I had to keep track of."
"For me, the awards mean that someone else saw my work and thought it was good," Ludlow says. "Having someone on a higher level that doesn't know me personally telling me that my art was good and deserves an award, to have that validation from someone outside my sphere of creativity, is really nice for me."
---
Categories: