ISU College of Technology and Stotz Equipment Partner for Second Annual Stotz Day Event
March 13, 2023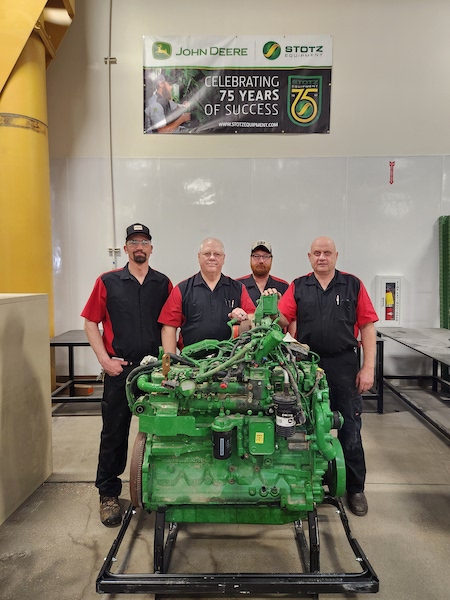 Idaho State University College of Technology and Stotz Equipment partnered once again to host the second annual Stotz Day event on March 7. This event served as a continuation of the fruitful collaboration that began last year. This year's event was special in that it not only catered to College of Technology students, but also included several high school students from East Idaho.
"This event is a win for current and potential ISU students as well as future Stotz employees," said Chris Guthrie, director of STEM and industry relations for the ISU College of Technology. "The fact that this is the second time they have provided this training lends to a continuity that helps foster strong relationships with our students."
Stotz Equipment brought three high-end John Deere tractors to ISU's William M. and Karin A. Eames Advanced Technical Education and Innovation Complex for the event. Representatives from Stotz Equipment were on hand to demonstrate the latest technology and offer insights into what they had to offer. Students were able to get hands-on experience with GPS auto steering technology, including learning how to build a GPS track and having the tractors follow that track. They also learned how to use John Deere's service advisor data link program to diagnose and troubleshoot issues with a tractor that had been intentionally bugged. In addition, they received guidance in troubleshooting emission systems on large tractors.
"I've been very impressed with the level of commitment that Stotz Equipment and John Deere have shown for the ISU Diesel program," said Tyler Colling, clinical instructor for the Diesel/On-Site Power Generation Technology Program. "Even though it's expensive to haul equipment to the school to perform these demonstrations and have service technicians assisting in the demonstration instead of at work, Stotz has never hesitated to step up and put on a well-organized experience for the students and instructors of the program."
As a part of their commitment to the program, Stotz Equipment also donated a 6.8-liter John Deere engine for the students to learn on and rebuild, expanding the breadth of equipment available for ISU students. Additionally, multiple students were interviewed for jobs at the event and may soon join the several Stotz Equipment employees who are already enrolled in the program at ISU.
"The Stotz Day event is a prime example of the valuable partnership we have with our industry partners, which allows our students to gain hands-on experience with the latest technology," said Terro Anderson, program coordinator for the Diesel/On-Site Power Generation Technology Program. "We are grateful for Stotz Equipment's ongoing commitment to our program and look forward to continuing to work together to provide our students with the skills and knowledge they need to succeed in their careers."
Overall, this year's Stotz Day event proved to be another successful collaboration between the College of Technology and Stotz Equipment. With the addition of high school students, the event provided a glimpse into the future of the program and the potential for growth in the partnership.
---
Categories: