Idaho State University Professor Named Structural Engineering Institute Fellow
February 28, 2023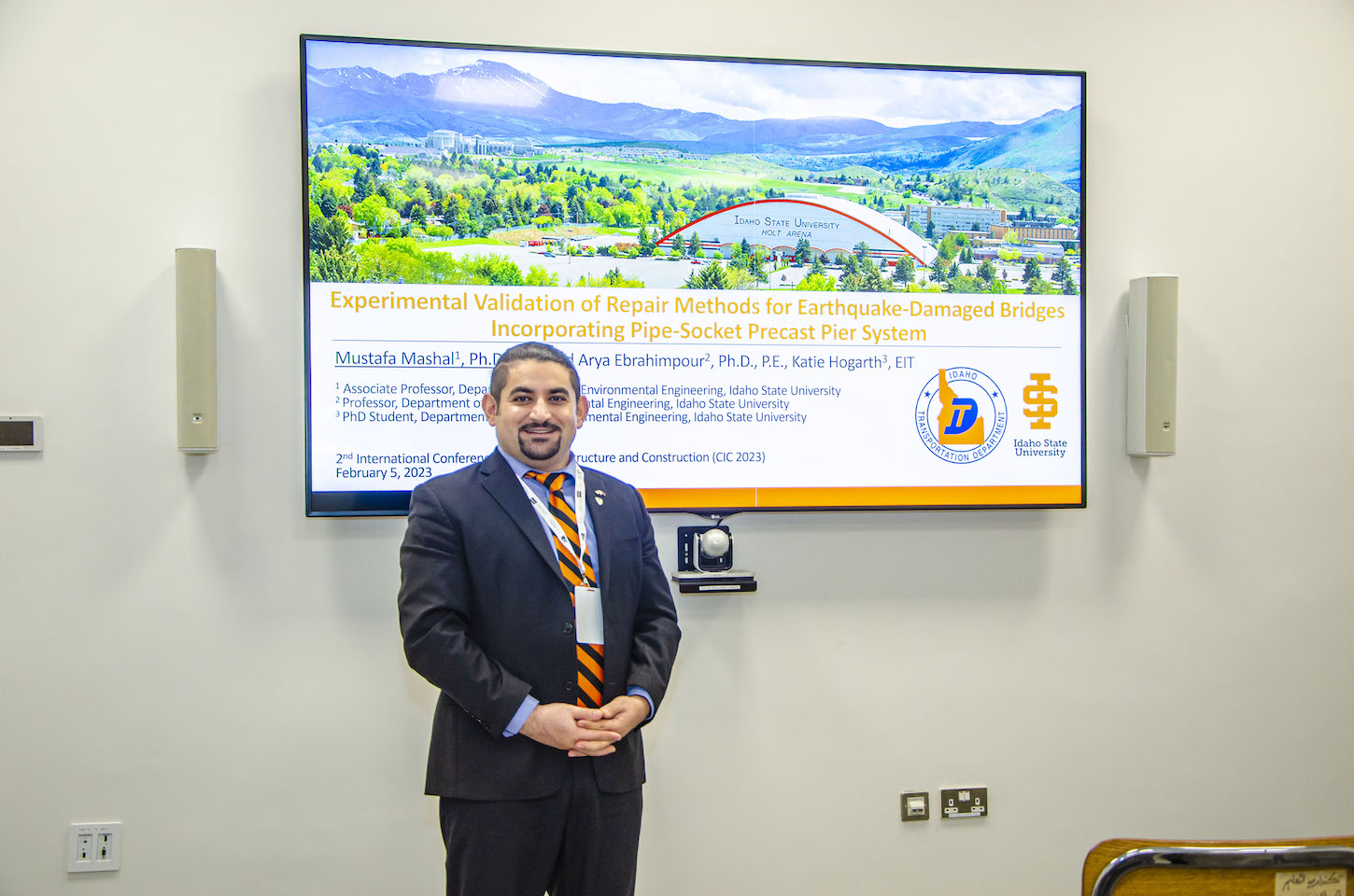 An Idaho State University professor is being recognized with one of the most distinguished honors in the structural engineering community.
Recently, the Structural Engineering Institute of the American Society of Civil Engineers (SEI) named Mustafa Mashal, associate professor in the Department of Civil and Environmental Engineering, as one of the group's 2023 SEI Fellows. SEI Fellows are members who are recognized "as leaders and mentors in the structural engineering profession" and represent less than 1 percent of the group's 30,000 total members. SEI comprises professionals from all aspects of the structural engineering community and is heavily involved in developing and revising building codes and guidelines in the United States. The 2023 SEI Fellows will be formally inducted at the ASCE Structures Congress in New Orleans in May 2023.
"I am truly honored to be selected as an SEI Fellow," Mashal said. "This is a great honor for me. I'd like to thank the nominators and the selection committee for seeing me worthy of this honor."
At Idaho State, Mashal's research focuses on concrete structures, earthquake-resistant technologies, and environmentally friendly and resilient construction practices. He has been a member of several SEI committees and serves as a Faculty Advisor for the American Society of Civil Engineers Student Chapter at ISU. Mashal was recently announced as ISU's associate director at the Center for Advanced Energy Studies (CAES) and has been part of the leadership team for ISU's Office for Research.
"Dr. Mashal is an outstanding member of the Idaho State community and very deserving of this recognition as an SEI Fellow," said Scott Snyder, Dean of ISU's College of Science and Engineering. "Mustafa has been a driving force in building both the Disaster Response Complex and the Structural Laboratory at ISU. As indicated by his being named an SEI Fellow, he has an international reputation in structural engineering, and we are very proud to call Dr. Mashal a Bengal."
Mashal is currently serving as a Fulbright U.S. Scholar at Qatar University in Doha, Qatar, as part of his sabbatical. For the past six months, Mashal has taught classes in structural engineering. He is also researching the use of titanium alloy bars to retrofit structurally deficient concrete buildings in collaboration with colleagues at Qatar University. Mashal will return to Idaho in August 2023.
"I have learned a lot from my peers and students here," Mashal said. "I've also had the opportunity to travel to other countries in the region and visit multiple universities, discuss research collaboration, and present my ISU-based research. I am very thankful for the support I have been given by the Fulbright Program, Qatar University, and the United States Embassy in Doha during my sabbatical in Qatar."
For more information on Idaho State University's Department of Civil and Environmental Engineering, visit isu.edu/cee.
Prospective students can schedule a campus tour at isu.edu/visit.
---
Categories: