Idaho State Civil Engineering Student Attends Advanced Studies Institute in Japan
July 30, 2023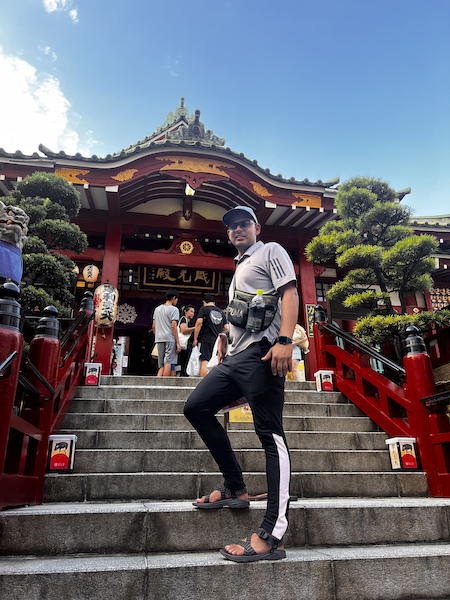 An Idaho State University student got an up close and personal view of some of the world's most earthquake-resistant buildings this summer.
Recently, Mahesh Acharya, doctoral candidate, made his way to Japan to attend the Pacific Rim Earthquake Engineering Mitigation Protective Technologies International Virtual Environment (PREEMPTIVE) Advanced Studies Institute (ASI) along with more than a dozen of the top graduate students from the United States studying natural disasters and their effects.
"I wanted to attend the PREEMPTIVE ASI to learn more about the protective systems and multidisciplinary approaches to hazard mitigation and disaster science, not just through lectures but also seeing the devastating effects of natural disasters and how the protective systems are used firsthand," said Acharya. "
At the two-week-long institute, Acharya had the opportunity to see buildings that have been embedded with systems designed to help them withstand earthquakes and tsunamis, visit labs at Tohoku University, University of Tokyo, Obayashi Technical Institute, E-Defense, and more, as well as meet with scientists from across Japan who are studying the effects of these natural disasters. He also had the opportunity to tour the areas impacted by the 2011 earthquake and tsunami, including Kobe, Sendai, and Tokyo regions, and visit museums, including Hokudan Earthquake Memorial Park, Higashi-Matsushima 3.11 Disaster Recovery Memorial Museum, Ishinomaki Minamihama Tsunami Memorial Park, and others.
"My favorite part of the trip was seeing the tsunami and earthquake-impacted areas and looking at the protective systems - base-isolated buildings, high-rise buildings with rotary inertia devices, and more - currently being used in Japan," Acharya said. "The discussion sessions with several leading scientists in the field were a huge learning opportunity for me."
In addition to their look at the country's earthquake and tsunami resistance efforts, Acharya and the other students also visited cultural sites around the country, including Himeji Castle, Zuiganji Temple, and more.
"At the institute, I realized I still have a lot of learning to do," Acharya said. "My research areas have focused on visualizing things at a component level, and now it's time to step up the game and take it to the system level," said Acharya. "One important factor that we engineers often overlook is the social impact of what we do. I now realize that it is important to perform research that advances innovation. Still, it's also important to identify the potential of our innovation to benefit society and contribute towards those benefits."
Participants in the PREEMPTIVE ASI were selected through a nationwide application process. A grant from the National Science Foundation covered travel expenses.
"I congratulate Mahesh for being selected and participating in this wonderful and prestigious program," said Mustafa Mashal, associate professor of civil engineering and Acharya's doctoral advisor. "Mahesh has been a superstar in our research group, and I see him becoming a future leader in structural and earthquake engineering in the United States. Experiences such as the PREEMPTIVE ASI provide valuable professional, educational, and cultural exchange opportunities for ISU students that will positively influence their career trajectory."
"I am very excited to share what I learned about different seismic and isolation technologies and, most importantly, the Japanese way of seismic design, analysis, and assessment with my fellow students and the faculty at ISU," Acharya said.
For more information on Idaho State University's Department of Civil and Environmental Engineering, visit isu.edu/cee.
---
Categories: