Ed Isla Named CPI Supervisor of the Semester
June 8, 2023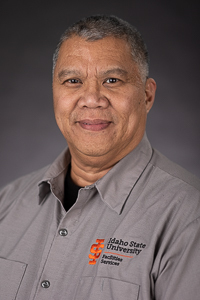 The Career Path Internship program (CPI) has named Ed Isla the Spring 2023 CPI Supervisor of the Semester. Isla is an Architectural Drafter for Facilities Services at Idaho State University.
"The best part about being a CPI supervisor is the satisfaction of passing my knowledge and experience on to someone who is willing to learn," Isla said. "(The internships) allow students to gain the confidence they want and need in their first actual position after graduation."
Isla was nominated by his CPI intern, Jaden Armstrong, a student in the Computer Aided Design Drafting Technology program within the College of Technology. During Armstrong's internship, Isla introduced Armstrong to a University-wide project that involves surveying every building owned by ISU. Once the surveys are completed, ISU's building plans are updated and prepared to be put into a GIS computer program, which allows for more precise and accessible building plans.
"Ed has provided me with advice and a vast expanse of experience and knowledge in things relating to construction, architecture, and engineering," Armstrong said. "Any needed repairs, updates, etc. needed on campus, start with the architectural drawings. Essentially, everything starts with Ed. He has taught me by example, how to manage the rigors of a dedicated architectural draftsman."
Isla's career path started with an interest in how people see and visualize objects in their surroundings. After graduating high school, Isla was hired as a student worker for the National Oceanic Atmospheric Administration (NOAA), providing navigation charts to the public and the military. During his experience with NOAA, Isla received some inspiring advice from his supervisor encouraging him to follow his passion. Following that advice, Isla began taking night classes in a drafting program while working construction in the day. Towards the end of his program, Isla began an internship with an engineering firm in Kirkland, Washington that specialized in mechanical, electrical, plumbing and fire protection design. This internship turned into a full-time position after graduating.
In 2004, Isla moved to Boise, where he began working at an environmental health and safety consulting agency. Isla's experience in architecture and design allowed him to become a Construction Site Safety Representative Consultant for major construction projects with Simplot and Micron Technology. Isla joined ISU in 2018 and continues to find pride in working at Idaho State University to this day.
This semester, the CPI Office received over 40 nominations for the CPI Supervisor of the Semester award. In addition to the grand prizewinner, the CPI Office selected five runners up:
Taysha Felton – EchoHawk Law Offices,

Gavin Monteath – Gateway Transitional Care Facility

Devaleena Pradhan – ISU Biology Department

Logan McDougall – ISU College of Science and Engineering

Susan Marion – ISU Biology Department.
"A strong internship begins with a strong mentor," said Emily Jahsman, Associate Director of the ISU Career Center and administrator of the CPI program. "Ed Isla and the other winners of this award are making a huge, positive difference in our students' lives, and I am so thankful for their efforts."
Operating in its twelfth year, the CPI program provides approximately 1,000 paid internship opportunities annually to ISU students. CPI internships provide career-related experiences to help students confirm their academic pursuits, gain valuable work experience, and prepare them for life after graduation. For more information about the CPI program visit isu.edu/career.
---
Categories: