Bolinger Family Establishes New Scholarship To Support Future Educators
April 10, 2023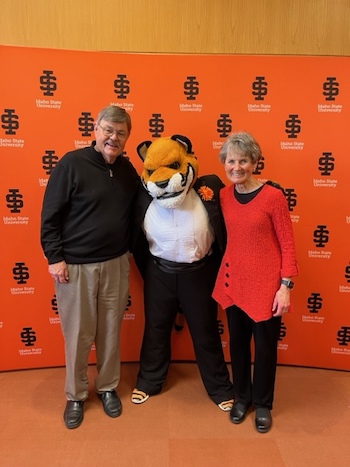 In the nearly six decades since Ron and Patty Bolinger stepped foot on the Idaho State University campus as students, the couple have actively participated in and supported all things orange and black. Bringing their lifelong love for the university that has greatly impacted their lives, their newest scholarship supports College of Education students pursuing teacher education and educational leadership degrees. This gift is among the long list of ways in which the Bolingers have given back to the ISU community.
Education and ISU are a family affair for the Bolingers. The reason behind the Bolinger's recent gift is simple: to give back. Collectively, the Bolinger family has a total of 12 degrees from ISU.
"We want education to be an opportunity for everybody. We give back, because ISU has been central to our family and our kids," Ron said.
Originally from Twin Falls, Idaho, Ron is a first-generation college student and an ISU alumnus with three degrees that include a bachelor's degree in secondary and elementary education, a master's degree in curriculum, and an education specialist degree in education administration. He also earned a doctor of education in school administration and curriculum degree in 1988 from Montana State University. Ron spent 46 years in public education as a teacher, principal, special education director and, for the last 22 years of his career, as the Superintendent for the American Falls School District until his retirement in 2017.
During his tenure, Ron was active in the Idaho Association of School Administrators, where he served in several offices, including president of the Idaho Association of School Superintendents and later as president of the Idaho Association of School Administrators. He also served on the board of directors of the Idaho High School Activities Association for six years, where he represented the superintendents of the state. Ron was recognized for his service to the state of Idaho in 2004 by being named Idaho's Superintendent of the Year. Ron also served as a professor of P-12 Education in the ISU College of Education from 2018-2021.
Patty is a proud Pocatello native and ISU alumnus with three degrees that include a bachelor's degree in psychology, a bachelor's degree in secondary education, and a master's degree in counseling. Patty taught for 12 years in both the Pocatello and American Falls School districts until she began her career as a counselor at William Thomas Middle School in American Falls, a role that she held for 34 years until her retirement in 2022. During her time as a counselor and teacher, Patty mentored ISU student teacher and school counselor candidates. Patty served for many years on the Idaho School Counselor Association Board in various positions including President in 2006-2007. She was also named Idaho Middle School Counselor of the Year in 1999-2000, and Idaho Supervisor of the Year in 1999-2000 and again in 2008-2009.
Both Ron and Patty participated in a variety of activities and associations during their time as students at ISU. One of their fondest memories included seeing the ISU Holt Arena being built in 1970. Now, the Bolingers are proud members of the ISU Alumni Association. Patty is the current Alumni Board President and Ron served a three-year term on the Alumni Board of Directors. They have been at the forefront of preserving ISU's brand and celebrating beloved traditions such as assisting in leading the Red Hill "I" restoration project in 2019. For their dedicated service, the Bolingers received President's Medallions during the 2018 ISU Homecoming Game.
This recent scholarship is among the many ways in which the Bolingers have left a remarkable legacy of volunteerism, educational leadership, and distinguished service. As Dean of the College of Education.
"Ron and Patty have dedicated their careers to advocating for children, teachers, school leaders and access to education. They have been outstanding representatives of the College of Education and we are grateful for their generosity and ongoing support for our educator preparation programs," Dean Jean McGivney-Burelle said.
In their free time, the Bolingers are strong supporters of the arts and are active in the Idaho-Civic Symphony where Patty plays the cello and Ron serves as the current President of the Symphony Association Board. Rob and Patty also are proud members of the Southeast Idaho Retired Educators Association.
In support of Bengal Giving Day happening on April 11 and 12, 2023, the Bolingers are offering a 2 for 1 match towards their scholarship up to $10,000.
"We hope there are no barriers to going to college, if that is something a student wants. We want to support future educators because we know they have the power to change lives and have an impact on someone else, more so than any other profession," Ron said.
Please visit bengalgivingday.com to learn more.
---
Categories: