Idaho State to Host an Open House at Holt Arena
September 11, 2023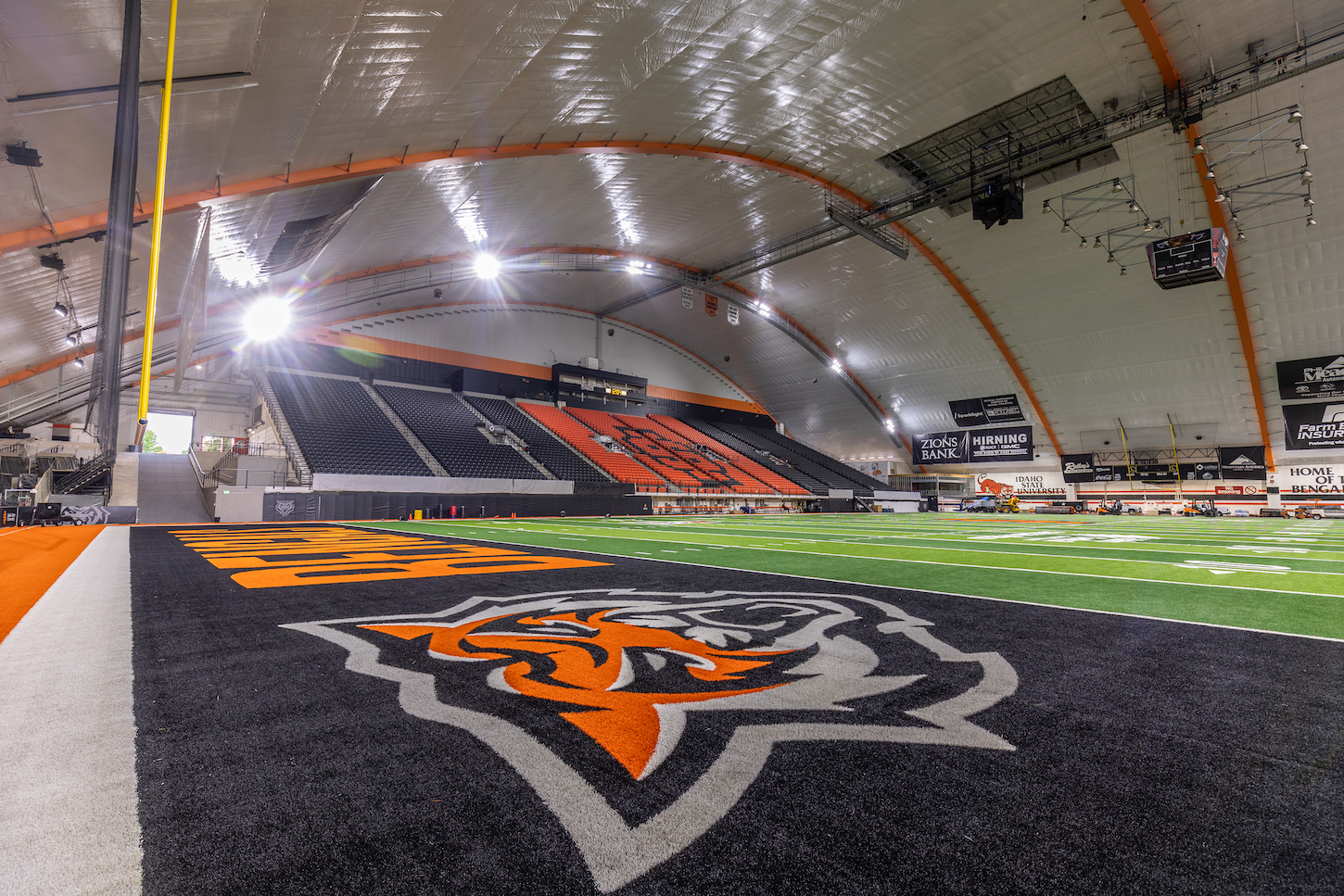 After nearly two years of renovations, the public is invited to see the changes at Idaho State University's historic Holt Arena at an open house Thursday, Sept. 14 at 4 p.m.
The $14 million project thanks to the generosity of Idaho Central Credit Union includes a number of enhancements across the facility including, ISU branded new seating throughout the entire venue that complies with ADA standards, premium seating with the ICCU President's Deck, a student-athlete meeting room and lounge, translucent glass above the President's Deck, and the addition of a white liner on the inside of the repaired roof.
"This renovation is such an important step in elevating our football program, our department, and our brand as a University. With our recent transition to ESPN+, millions of minutes of our venues are viewed by the public. We are now able to project a great environment to external audiences, as well as provide our fans, coaches and student-athletes with a first-class venue," said Director of Athletics, Pauline Thiros. "Holt Arena is dear to many of us, not the least of which our students, who stepped up to fund its construction more than 50 years ago. It exists because of them and for them as well as our community and region. Undertaking this renovation was important in order to be a good steward of the students who paid for it, our current students, and our community. We are exceedingly grateful to Idaho Central Credit Union for making it possible for us to fulfill that duty."
Additionally, a renovated press box on the south end of the arena will now bear the name of long-time Idaho State University Sports Information Director, Glenn Alford. For 31 years, from 1967-1998, Alford covered the sports information and media relations needs of Idaho State University. During his tenure, the Bengals won a national championship in football and defeated UCLA in the Sweet Sixteen round of the NCAA Men's Basketball tournament. In the late sixties, Alford worked tirelessly to help the construction of the ASISU MiniDome, later renamed Holt Arena, the first indoor collegiate stadium in the United States.
"Glenn is arguably the most knowledgeable person on earth regarding Idaho State Athletics and every Bengal who has come through the program. Beyond knowing them, he has a deep love for each of them, too, and it shines through still today when he tells their stories," Thiros said. "He was a sports information professional ahead of his time, understanding that his role was not one of keeping stats, but of sharing student athletes' and their journeys, showing the world how special they are, and making them know how special they are. Glenn's commitment to Idaho State Athletics is as deep and vast as we will ever see, and I am so proud that our press box will forever place his name above the field in Holt Arena. He is iconic, and his name will look great in Holt Arena forever."
The formal unveiling of the Glenn Alford Press Box will take place on Saturday, October 14, at 1:00 PM.
---
Categories: