Idaho State Professor, Student Return from 9-Day Research Expedition on the Pacific Ocean
November 2, 2023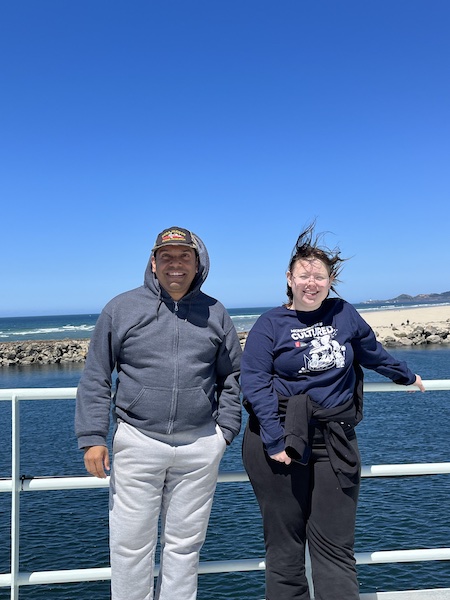 Ask Rhys Ellis if he'd spend another nine days at sea, and you'll get an enthusiastic answer.
"Absolutely, I'd love to do it again," says the senior majoring in honors microbiology at Idaho State University. "I had only seen the ocean once briefly before starting college, so spending over a week on the ocean doing cutting-edge research and collecting samples is an experience I never even dreamed about being able to do, especially going to school in a landlocked state like Idaho."
It's not a surprise Ellis would want to take another trip onboard the R/V Thomas G. Thompson, a ship specializing in research out on the open ocean. The Thompson is one of more than a dozen "oceanographic vessels and various submersibles/autonomous vehicles" that make up the U.S. Academic Research Fleet.
Over the summer, Ellis and Anirban Chakraborty, an assistant professor in the Department of Biological Sciences, traveled with 21 other scientists and students to a specific spot in the Pacific known as the Juan de Fuca Ridge. The ridge is about 250 nautical miles northwest of Newport, Oregon - about a day's worth of travel away - and has some unique characteristics.
"There are aquifers in the ocean crusts underneath the seafloor and the sediment layer," explains Chakraborty. "There are also undersea mountains where these crustal aquifers get recharged with seawater. Once the seawater is in the aquifer, it spends hundreds of thousands of years there before getting discharged back onto the seafloor through other seamounts."
Chakraborty and Ellis want to know more about microbes that may live in this aquifer and are ejected where the water discharges, landing on the nearby sediment. Chakraborty is an expert on extremophiles - earth's hardiest organisms - and geomicrobiology - the study of how microbial life and geologic processes intersect.
"The water in crustal aquifers are much warmer and chemically different compared to cold seawater and are home to microbes that are very different when compared to those living on the seafloor," Chakraborty said." Studying how these microbes live in such extreme conditions may offer clues about the limits of life on this planet and the possibilities of finding life on other planets."
Like any good science, you need samples. And to get samples from under 9,000 feet of seawater, you send in a submersible: Jason. Jason is a remotely operated vehicle "equipped with sonars, video and still imaging systems, lighting, and numerous sampling systems." Meanwhile, the ROV's manipulator arms can "collect samples of rock, sediment, or marine life." Jason is chiefly operated by a specialized group, but rounding out the rest of the team are the researchers on the ship who want to study the samples Jason collects.
The pair from Idaho State would each take three four-hour shifts in Jason's control room over eight days, helping Jason's crew operate the vehicle to gather samples and data.
"I was the video logger on my shifts,' said Ellis. "The job was to take photos and videos of sample collection when we saw an animal or something notable was happening. Midway through one shift, I captured a photo and saw a ping-pong tree sponge, something many of us had never seen before. We ended up talking about it for the remainder of the trip."
"My role was to oversee the sampling activities as per the dive plan during my shifts," Chakraborty said. "I was the liaison between the chief scientist and the ROV operators. I also instructed my colleagues to log observations and take photos and videos."
To get samples for Chakraborty and Ellis, Jason utilized a custom-made tube to get sediment cores. The 10-inch long tube is connected to a t-shaped handle that allows Jason's remotely operated arms to push the tube into the sediment gently, pull it back out, and deposit the filled tube into a basket that will be brought back to the surface and analyzed.
"A 10-inch deep core in this seafloor region represents almost 10,000 years worth of sediment," said Chakraborty.
On day four of the trip, Jason was tasked with retrieving the first two sets of samples for Chakraborty and Ellis. The pair took their positions in the ROV's control room and watched Jason make the two-hour descent into the deep.
"The anticipation mainly was excitement," Ellis said. "The Jason team is extremely talented, so I had no doubt the samples would return in good condition."
Ellis' enthusiasm was tempered by a bit of a personal setback. A side-effect from an anti-nausea patch limited his sight to essentially just shapes and colors.
"I get motion sick easily, so I was well-prepared for the trip with different medications for seasickness," said Ellis. "One patch had a listed side effect of increasing pupil size and causing blurry vision. The first few days of the trip were fine, but the day of sample collection had me get both side effects simultaneously, almost blinding me for the duration of sample processing. Thankfully, I had a different medication I was able to switch to that worked and didn't blind me."
Once the 27-hour-long dive was done, the cores were returned to the ship, and Chakraborty and Ellis got to work in the Thompson's laboratories. The pair spent the next 4-plus hours inside a walk-in fridge carefully removing the cores from the tubes using custom-made tools and sectioning them for further analysis back in Pocatello. Two days later, Chakraborty and Ellis repeated the process as nine more cores were retrieved from the depths of the Pacific.
"These are the first set of marine samples that I collected as a principal investigator, and I am so excited to analyze these samples," Chakraborty said. "We will conduct experiments trying to cultivate some microbes that we think live in the crustal fluids and are likely deposited in the sediments when the fluids are discharged on the seafloor. We will also conduct DNA sequencing at ISU's Molecular Research Core Facility to get a snapshot of the microbial community at various sediment depths."
"Being able to experience all the effort and the challenges that go into sample collection in the deep sea made everything so much more special and personal," said Ellis. "In the past couple of years, I have done several lab experiments and analyses using sediment samples from other regions of the world's oceans. However, I feel a stronger connection with these samples since I was involved in every aspect of the sample collection and their return to Pocatello. It's like making a cake from scratch vs. from a box; the cake is delicious either way, and I enjoy baking both, but there is something special about making a cake from scratch, even if it can be a lengthier process filled with unexpected challenges. I have a major sense of accomplishment in collecting these samples, and I am excited to start working with them in the lab."
Now back in Pocatello, Ellis describes the voyage as a bit of a "litmus test" for a future career. Ellis originally had plans to go into medicine when he started as a freshman at ISU, but a course in microbiology at ISU and these nine days at sea now have him firmly on the path to being an environmental microbiologist.
"Working with samples from beginning to end is a special experience, and I loved everyone I worked with and met on the trip," Ellis said. "This experience proved to me that my place is doing environmental microbiology and being on the ocean as much as possible."
For more information on Idaho State University's Department of Biological Sciences, visit isu.edu/biology.
---
Categories: