Colonel Fergus "Paul" Briggs (USMC) and Major Gina M. Briggs (USAF) Establish New Endowment for Military-Affiliated Students and Veterans
November 9, 2023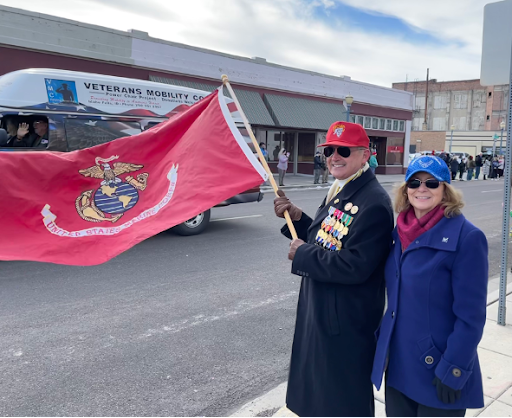 Idaho State University alumnus and Pocatello native Paul Briggs and his wife, Gina, have established a new scholarship endowment to help ISU students serving, or who have served, in the U.S. Armed Forces. The Colonel Fergus "Paul" Briggs (USMC) and Major Gina M. Briggs (USAF) Scholarship Endowment will support ISU students affiliated either as a veteran, a member of the National Guard or Reserve, or any officer development program of any service component.
The Briggs are advocates for higher education and the incomparable value of intellect, critical thinking skills and sound judgment such learning brings to the immense challenges of leadership in the armed forces, as well as to the veterans who serve positions in civilian government.
Paul noted, "Gina and I have been involved at many different levels for a combined 76 years, including senior positions in the military and civil service requiring top secret security clearances. Neither of us could have succeeded without higher education, and now find ourselves positioned to help select students as they begin their journey as leaders who will serve our great nation's future."
As a Bengal, Paul was a class officer, a member of Phi Sigma Kappa and competed in intramurals. Before 1973 there was a military draft, and he completed the Army ROTC junior program and later the Marine Corps Platoon Leaders/Officer Candidate Program, leading to a commission as a Second Lieutenant. In addition to the vast amount of operational and technical training, he has a graduate certificate from the Marine Corps Command and Staff College, an MA in National Security and Strategic Studies from the U.S. Naval War College, a Graduate Certificate of National Security Studies from the National War College, and a Certificate of Senior Executive Leadership Qualifications from the U.S. Office of Personnel Management.
As a proud alumnus, he served on the ISU Alumni Board of Directors for eight years, two of which he was president. Paul is currently in his third year on the College of Arts and Letters Dean's Advisory Board. He is a past recipient of the College of Arts and Letters Professional Achievement Award.
Gina enlisted in the Air Force right out of high school and, while stationed around the world, acquired her non-traditional college education and then an Air Force officer's commission. She studied through the Community College of the Air Force (AA), San Diego State (BA) and George Washington (Master of Arts in Education Technology Leadership). With both now retired in Pocatello, Paul and Gina remain closely involved with the Idaho State University community, fellow Bengals, family and friends.
The ISU Veterans Student Services Center is ranked fourth in the Top 10 Military Friendly School designations for research institutions and serves over 560 students with a military affiliation, including veterans. There is a wide variety of students enrolled in the many military components in both undergraduate and graduate programs, including nursing, engineering, political science, homeland security and business. Students can enroll in the on-campus Army ROTC program, or other service officer development programs, leading to a commission as an officer upon graduation. They may also join a local National Guard or Reserve unit.
This scholarship will help students in these types of programs get started on the wide range of knowledge, skills, abilities and values that will help them grow into future leaders of tomorrow.
To learn more about how you can get involved and support students visit isu.edu/give.
---
Categories: