SACNAS at Idaho State University Nationally Recognized
March 17, 2022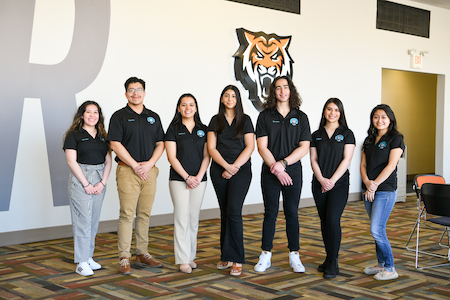 One of Idaho State University's newest student organizations has been officially recognized by its national counterpart.
Recently, the Society for Advancement of Chicanos/Hispanics & Native Americans in Science at ISU (SACNAS at ISU) was granted official chapter status by its parent organization, SACNAS. SACNAS at ISU is an inclusive community that introduces first-generation and underrepresented students to research.
To be named an official chapter, SACNAS at ISU had to meet the requirements set forth by the national organization. The requirements included hosting monthly activities to support professional development, community enrichment, civic engagement, promoting diversity, inclusion, and equity in Science, Technology, Engineering, and Mathematics (STEM), establishing a fundraising plan, and more.
"Becoming a nationally recognized chapter is a significant accomplishment," said Berenice Sosa Aispuro, President of SACNAS at ISU. "As a group, we've worked hard to make an impact on campus and the community, and it's great to see it all pay off. Hopefully, this will inspire other colleges around Idaho to start their own chapter."
Sosa Aispuro
, a junior double majoring in nuclear and mechanical engineering, joined SACNAS at ISU for a sense of community. She appreciates how the group's members motivate each other to achieve their academic and career goals.
"SACNAS has helped me gain confidence and become more of a leader," Aispuro said. "The further I advanced in my studies, the more I realized that there aren't a lot of people that look like me. I didn't grow up seeing Hispanic engineers, which intimidated me at first. However, I have learned to take advantage of that through SACNAS, and I can now be the representation for future Hispanic engineers that I didn't have when I first started college."
SACNAS at ISU was formed in 2019 by students Adolfo Andazola-Carmona and Loni Nelson with guidance from Dr. Julia Martin, Assistant Professor of Microbiology, and Sonia Martinez, Coordinator of ISU's STEM Diversity and Outreach Office. The group has already gained a foothold on campus, earning a pair of Benny Awards in 2021. SACNAS at ISU took home Student Organization of the Year, and former President Joselynn Castillo was named Undergraduate Student Leader of the Year.
"Watching SACNAS at ISU grow over the past several years has been incredible," Martin said. "The students and Sonia are fantastic to work alongside, and they are extremely creative with their activities that serve the community. I am ecstatic to see their efforts continue to be recognized and supported by others."
SACNAS at ISU is one of the ways ISU is working towards recruiting and retaining more students from historically underserved populations. Through the STEM Diversity and Outreach office, staff members aim "to increase the participation of students in research that are underrepresented in Science, Technology, Engineering, and Math" as well as "mentor, advocate, and introduce students to hands-on research career opportunities."
"Science relies on the creativity of people from different backgrounds because their unique experiences allow them to see solutions to problems from different perspectives," said Martinez. "SACNAS at ISU is an inclusive community where people from all backgrounds can bring their entire self - academic and cultural - to the STEM fields."
There are more than 130 student chapters of SACNAS across the country. SACNAS at ISU was the first provisional chapter in Idaho and is now the first student chapter to be nationally recognized in the Gem State.
---
Categories: