Prominent Business Alumni Participate in Panel with Students
April 21, 2022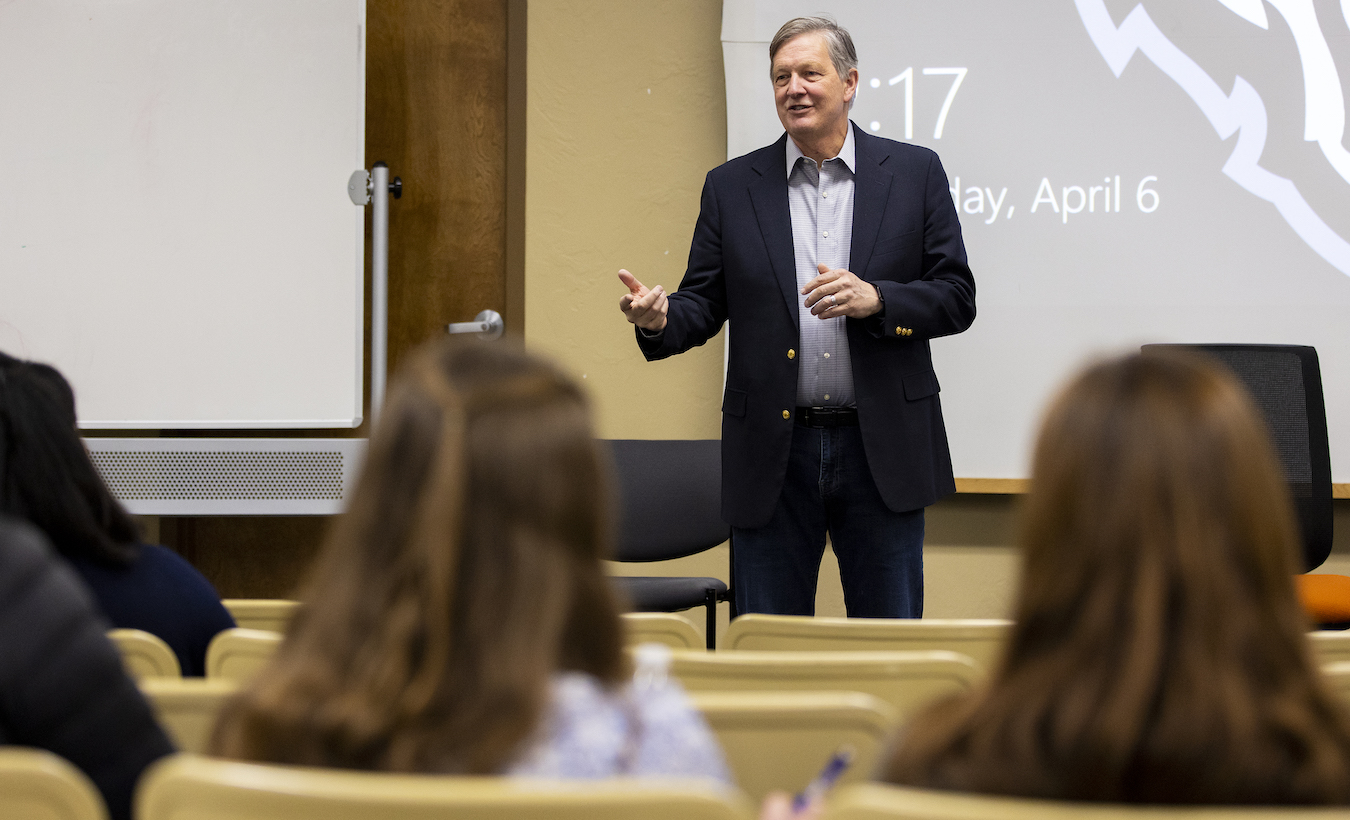 On April 6, students in the Idaho State University College of Business had an opportunity to ask questions and sit in on a discussion between two prominent alumni, Don Burdick and Mike Hayhurst.
Burdick and Hayhurst were visiting the ISU College of Business for a college-wide and accounting department-specific Executive in Residence event which took place over three days.
Both accounting alumni, Burdick and Hayhurst have high-level leadership backgrounds and were able to share their insights with students during the panel. Burdick, a retired Senior Vice President of eCommerce and Travel at Costco, told students he was able to develop his leadership skills by following the example of his own leaders, in particular the Costco founders.
"I was able to lay the groundwork through trust for my employees, I made sure to always show awareness and was conscious of my actions reflecting the trust that I had for the employees," Burdick said.
Prior to joining Costco in 1992, Burdick worked for the Big Four firm, Price Waterhouse Cooper in Seattle, later deciding to earn his law degree from the Seattle University Law School.
For Hayhurst, soft skills have been some of the most valuable traits he has gained and adopted into his leadership style.
"Showing compassion and being able to speak openly and honestly is the foundation of leadership," said Hayhurst, who is an Office Managing Partner for the Big Four accounting firm, KPMG. "It is so important to be transparent and honest even if you don't like the facts."
Burdick agreed with a similar note on the importance of understanding diversity among employees and including them in decisions.
During the discussion, each alumnus was able to share some valuable insights with students from failures and successes in their professional journeys. After graduating from Idaho State in 1991, Hayhurst worked for the accounting firm, Arthur Anderson where he progressed to partner after 11 years. In 2002, Hayhurst faced some difficulty in his career when the firm he was working for was convicted of obstruction of justice for shredding documents related to its audit of Enron, a major corporation involved in a scandal that shook Wall Street in the early 2000's. While working through the crisis at Anderson, Hayhurst said his challenge was to maintain optimism with his clients despite the hit the firm had taken. Emphasizing the fact that failures are often part of the journey, Hayhurst encouraged students to keep getting up every time they fall.
"You need to have a positive attitude, even in failure," Hayhurst said.
Burdick agreed, adding that success comes from taking chances and learning from the mistakes. He noted that your youth is a good time to take risks in your career because if you fail you still have time to recover and try something new.
In both of their careers, the alumni said that they had made adjustments and changes that lead to greater opportunity in the end. In starting his journey at Idaho State, Hayhurst had intended to major in computer science, but discovered a love for accounting and finance after taking just one College of Business course- resulting in his earning a Bachelor of Business Administration in both programs. Then, after his time at Arthur Anderson, Hayhurst joined KPMG where was able to lead a team in Anchorage Alaska for seven years before transferring to the Boise office as a partner. For Burdick, his decision to go to law school landed him a position at the major firm, Foster Pepper in Seattle and later the Vice President of General Counsel for the entrepreneurial and real estate developer, Dave Sabey. Once joining Costco, Burdick went from VP of Legal Affairs, to Chief Information Officer, before landing in his SVP role where he spearheaded Costco's Executive Membership program. This program includes a two percent reward system, car purchasing options, and a variety of other features. His role also allowed him to lead 12 websites to over $10 billion in annual sales, in addition to $2 billion in annual sales for Costco Travel.
Overall, the opportunity to ask questions and speak to two leaders and fellow business Bengals, was a chance for students to envision their own paths to success with their journeys starting at Idaho State.
Throughout their visit, both speakers served as guest lecturers in a number of courses as well as accompanying a few graduate students to lunch for a small group discussion. Master of Business Administration student Keegan Sullivan was one of those that attended the lunch.
"Having the opportunity to hear from two successful Idaho State alumni was very inspirational," said Sullivan. "It was evident that through hard work and perseverance anything is possible. As an aspiring leader, it was insightful to hear the management styles Burdick and Hayhurst used in their careers."
"The Executive in Residence (EIR) program is useful for students in many ways," said Kristine McCarty, Director of Graduate Studies and the organizer of the event. "For me, the most important of those is that our EIRs remind students that they can go anywhere and do anything with a degree from Idaho State University. When you're sitting in your fifth lecture of the week, it's difficult to see and understand the great impact your education will have on your life. These returning alumni share their journey with students and help them see how many doors a degree from Idaho State will open for them."
Accounting Department Chair, Dr. Bob Picard who plays a major role in organizing the accounting program's EIR events agreed with McCarty's sentiment about the program.
"Our Executive in Residence program puts faces on the promise of an Idaho State University College of Business education," he said. "It was a pleasure to see students begin to realize that, one day, they could be the one in front of the room."
The Executive in Residence is a relatively new program at the College of Business and has welcomed several technology executives, including a former director at IBM, in addition to a number of partners from KPMG and other accounting firms.
"We are immensely grateful for the continued support of Mike and Don and all of our engaged alumni, and the light they shine on our programs," said Picard.
---
Categories: