Nearly 2,000 Graduates Honored at 2022 Spring Commencement Ceremonies
May 7, 2022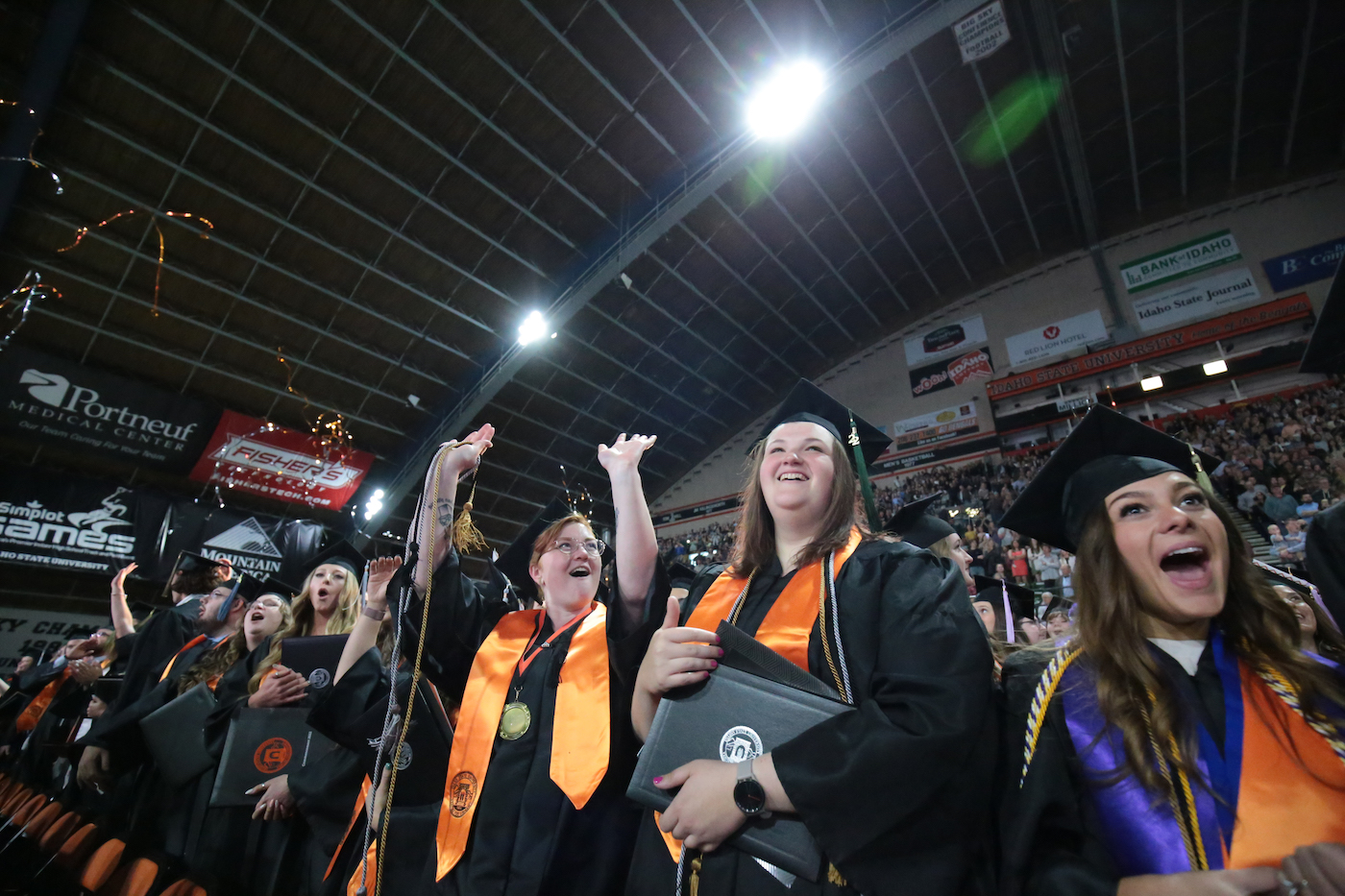 Idaho State President Kevin Satterlee congratulated graduates at Saturday's commencement ceremonies on their perseverance through difficult times, and encouraged them to continue to use their grit and determination throughout their lives.
"Know that from where you are today, you can achieve whatever you set your mind to. I call on you to set your mind on what fulfills you as a person. Build the life that you have dreamed of, that makes you proud, and that ultimately brings you happiness and fulfillment," he said. "Because this is what education is about. It is about bettering your life. And by bettering your life, you also have an opportunity to make the world a better place."
A total of 1,989 spring and summer 2022 graduates received 2,144 degrees and certificates at two commencement ceremonies on May 7. Although Holt Arena is currently undergoing renovations, graduates still graduated under the dome, continuing a 52-year tradition.
Idaho State Board of Education member Cindy Siddoway, an Idaho State alumnae, urged graduates to spread the message that higher education changes lives.
"I have personally experienced how higher education can change the trajectory of one's life," she said. "I would not be standing here today addressing each of you, had it not been for my time here on this campus. Be proud of what you have accomplished. College is not easy. But you have persevered, and you will soon reap the reward."
In the morning ceremony, graduate and student speaker Cassidy Evans told graduates she was proud of how they handled adversity together.
"The class of 2022 faced uncertainty about everything, from questions about whether classes would be in person or online, to what the economy and job availability will be like upon graduation, all while living in a worldwide pandemic" she said. "But we have continued to move forward with optimism and courage, making it to today."
At the afternoon ceremony, graduate and student speaker John Lancaster asked his peers to share what they have learned with others, not only their academic knowledge, but their empathy, understanding, and compassion.
"Let us show the same character, compassion and honor modeled by our supporters and mentors at ISU," he said. "Although our society faces challenges and division, I have witnessed the grace of today's graduates in the face of difficulty, and from where I'm standing, the future looks brilliant."
---
Categories: