ISU College of Business and Honors Students Compete in International Royal Roads Design Thinking Competition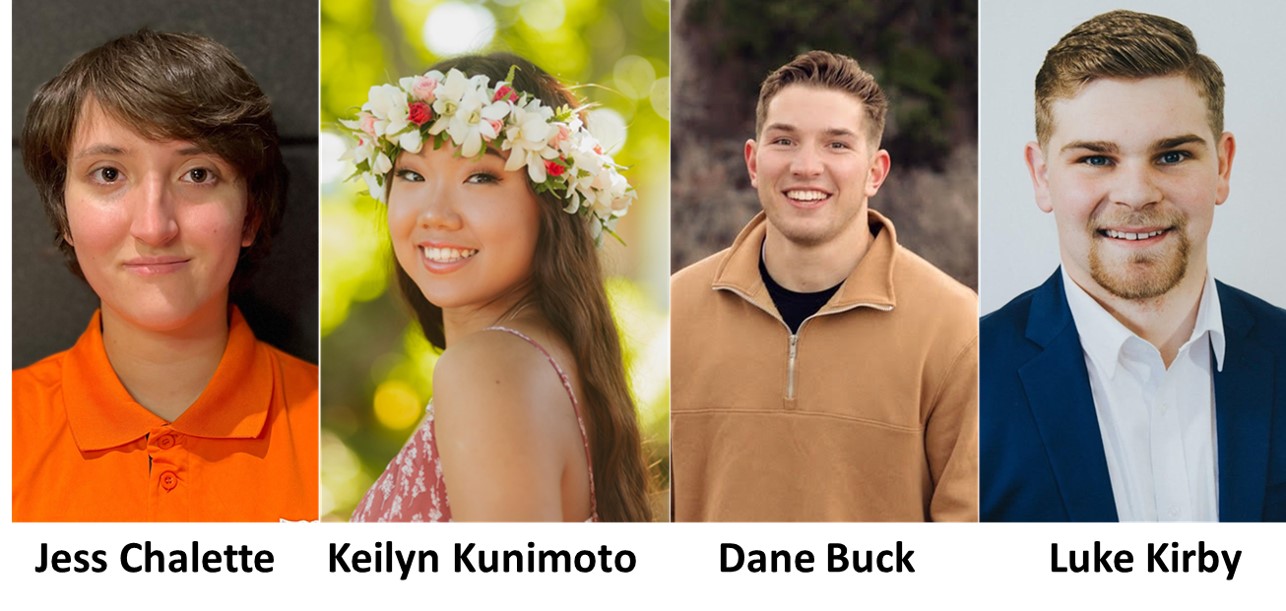 It is not every day that students in Southeast Idaho get to compete in an international competition. It is even more remarkable to be the lone international entry, yet nearly make it onto the podium in their school's first time competing. That was the situation for four College of Business and University Honors Program students from Idaho State University, who competed in the Royal Roads Design Thinking Competition, hosted virtually by Royal Roads University of Victoria, Canada.
Idaho State team members Jess Chalette, Keilyn Kunimoto, Dane Buck and Luke Kirby were asked, to reimagine a more engaging and inclusive experience for museum patrons. They conducted interviews, surveys, and collected data from online and secondary sources to gain a better understanding of the challenges that museums face. They used that information to prototype an innovative solution, the production of a regular Spotify podcast featuring voices from a diverse group of local citizens of all ages to highlight exhibits for the Royal British Columbia Museum in Victoria, Canada.
Team co-advisors Alex Bolinger, Professor of Management, and Jeff Street, Associate Professor of Management and Director of the Center for Entrepreneurship and Economic Development, were particularly grateful to the Museum of Idaho in Idaho Falls for supporting ISU student team members.
"Kaitlin Miklos, Jeff Carr, Rod Hansen, and so many other members of the Museum of Idaho's executive team were willing to be interviewed by our students on very short notice," Bolinger said. "They shared important insights about the challenges facing museums that were essential to informing our team's prototype."
The primary purpose of the competition, Bolinger said, was to give students the opportunity to learn the principles of design thinking and apply them in ways that benefit society. However, the competition also facilitated important lessons about collaboration with teammates from various disciplines.
"This competition was inspiring and life changing," said Luke Kirby, a Finance and Marketing double major in the ISU College of Business. "Being able to collaborate, learn, and laugh with my teammates who had vastly different opinions and viewpoints from my own was nothing short of inspiring."
Jess Chalette, an Honors student majoring in Communication, Media, and Persuasion at ISU, added that "there was something so rewarding about getting to dip my toes into the world of business and experience different perspectives from different types of students."
The intensity of the competition, which involved three rounds of presentations and feedback from judges located throughout Canada in just 72 hours, left an impression on the team members. Keilyn Kunimoto, an Honors student majoring in Communication Sciences & Disorders with an emphasis in Speech Language Pathology, described the Royal Roads Design Thinking Challenge as "one of the most academically rigorous projects I have ever worked on in my entire life. It was an intense process that was extremely rewarding."
Dane Buck, an Honors students double majoring in Finance and Marketing and preparing for dental school, summarized the broader impact of the competition as such: "This competition gave me the experience to stretch myself, to step outside of the world of business and into this realm of thinking about others in an empathetic way."
"Dr. Street and I wish to thank Dr. Shane Hunt, the ISU College of Business, the University Honors Program, and the Center for Entrepreneurship and Economic Development for supporting our students in this challenge," said Bolinger. "We are delighted with how our ISU students rose to the challenge and competed successfully with some of the largest and most prestigious universities in North America."
---
Categories: