Idaho State Mourns the Loss of Nancy Cheadle-Winberg
July 25, 2022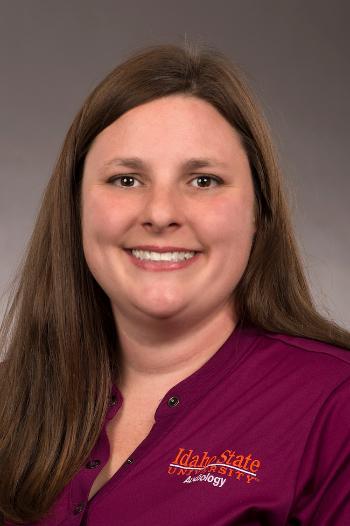 Audiology faculty member Nancy Cheadle-Winberg passed away July 17, 2022. At just 38 years old, Nancy made an incredible impact on the students, faculty, staff and patients she interacted with during her time at ISU. She leaves behind a legacy of professionalism and passion within the field of audiology, along with an incredible love for animals.
Nancy was known for her bright smile and even in the end, asks not for us to grieve, but to celebrate. Nancy's obituary states, "If you are reading this, then I have finished my earthly race! After over five years of battling stage four rectal cancer, I am free!" Nancy also requested that if you wish to honor her memory, please get a colonoscopy, as colorectal cancer is the most preventable cancer, if detected early.
It is easy to see the impact Nancy made by reading the comments below from several alumni that enjoyed working alongside Nancy during their time in the Audiology program:
"I've always admired her strength and passion for life despite all the obstacles she faced in life. In the short amount of time I got to know her, she contributed to the love I have for the profession we share. I will forever be inspired by her quiet but fierce strength, poise, intelligence, beautiful spirit and passion. She will be greatly missed."
"Nancy was always so kind and generous with her time. It was always so easy to stop in her office and hear about her latest adventure in cat fostering. She had such an infectious smile...This is a huge loss, but it's comforting to know how many lives she touched with her kindness, intelligence, and passion for our field".
"Nancy was a true warrior and amazing woman that I'll forever look up to. She was an incredible capstone advisor and I am so blessed that she noticed my interests in access to health care and handpicked me for our project together. She worked hard to make sure I was successful all through her treatments and never left me hanging. Her talents were endless (I don't know anyone else who can play the banjo!) and compassion for life was inspiring. She single-handedly supported my sweet tooth with her candy basket outside of her door and I'm pretty sure that got me through the first two years of grad school. I'll be forever grateful for her patience with having me as her student in clinic for four semesters. She helped me to grow into the clinician I am today."
Nancy and her husband Doug, who died unexpectedly in 2014, leave behind a young son, Daniel, age 9. There are several ways to honor Nancy, by contributing to a school fund for Daniel at Idaho Central Credit Union under the Nancy Cheadle-Winberg Memorial Account or to an ISU scholarship fund, details below.
All are invited to celebrate Nancy's life at a memorial service, please wear blue for colorectal cancer awareness.
Friday, July 29 | 11 a.m.
University Bible Church
4700 N. Philbin Road
Chubbuck, ID 83202
Condolences may be sent to Nancy's family online at www.cornelisonfh.com or by calling (208) 232-0542.
To honor Nancy by contributing to her scholarship, contact:
ISU Foundation
ATTN: Nancy Cheadle Scholarship
921 S. 8th Ave, Stop 8050
Pocatello ID, 83209-8050
(208) 282-3470
You can mail your donation, call the ISU Foundation, or donate online. Select "other fund" in the drop down and write in "Nancy Cheadle Scholarship."
---
Categories: