Honors Students help create R.E.A.L. STEM Website for Upper Elementary Students
January 13, 2022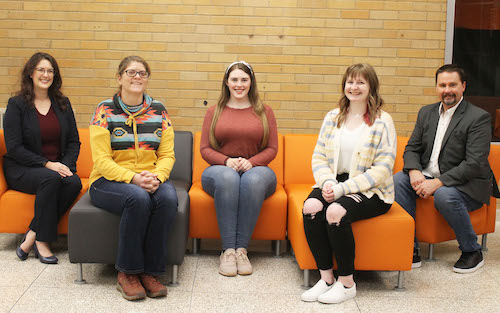 Upper elementary-aged students nationwide will now have free and remote access to R.E.A.L. STEM (Remote and Equitable Access to Learning STEM) thanks to a collaboration between College of Education honors students, a geology honors student, and their professors.
Beginning in 2021, Dr. Cory A. Bennett, Professor in Idaho State University's College of Education Teaching and Educational Studies Department, and Dr. Shannon Kobs Nawotniak, Associate Professor in the Department of Geosciences and Director of the University Honors Program, joined forces to create R.E.A.L. STEM with the goal of delivering authentic STEM experience for upper elementary students. The project proposal was funded by INL in partnership with the Idaho STEM Action Center, with additional support for student internships from the Idaho Space Grant Consortium.
Bennett and Nawotniak recruited three College of Education honors students, majoring in the Elementary Education or Secondary Education, and a geology honors student to help create the R.E.A.L. STEM website. "It is important to give our students real world experiences and projects to work on earlier in their undergraduate degrees," explains Dr. Bennett, "it not only helps them develop their content knowledge for teaching but gives them opportunities to collaborate with a variety of experts on complex projects like practicing teachers do in their work."
College of Education honors students Madison Smith and Meagan Jewkes and General Studies honor student Exko Ramey diligently worked over the summer and fall semester to create an informal educational experience geared towards upper elementary grade students nationwide. In addition to setting up the website experience, Kathleen Van Wesenbeeck, an honors student in Geology and Physics with a minor in Applied Mathematics, created videos for the STEM-related activities.
The R.E.A.L STEM website is scheduled to launch in January 2022 in partnership with the Idaho Museum of Natural History, located on ISU's campus. The website will allow upper elementary students living anywhere the chance to start envisioning themselves in STEM careers.
---
Categories:
College of EducationCollege of Science and EngineeringUniversity News