Grants Fund Research Experiences for Pocatello High School Teachers with ISU Biologists
August 3, 2022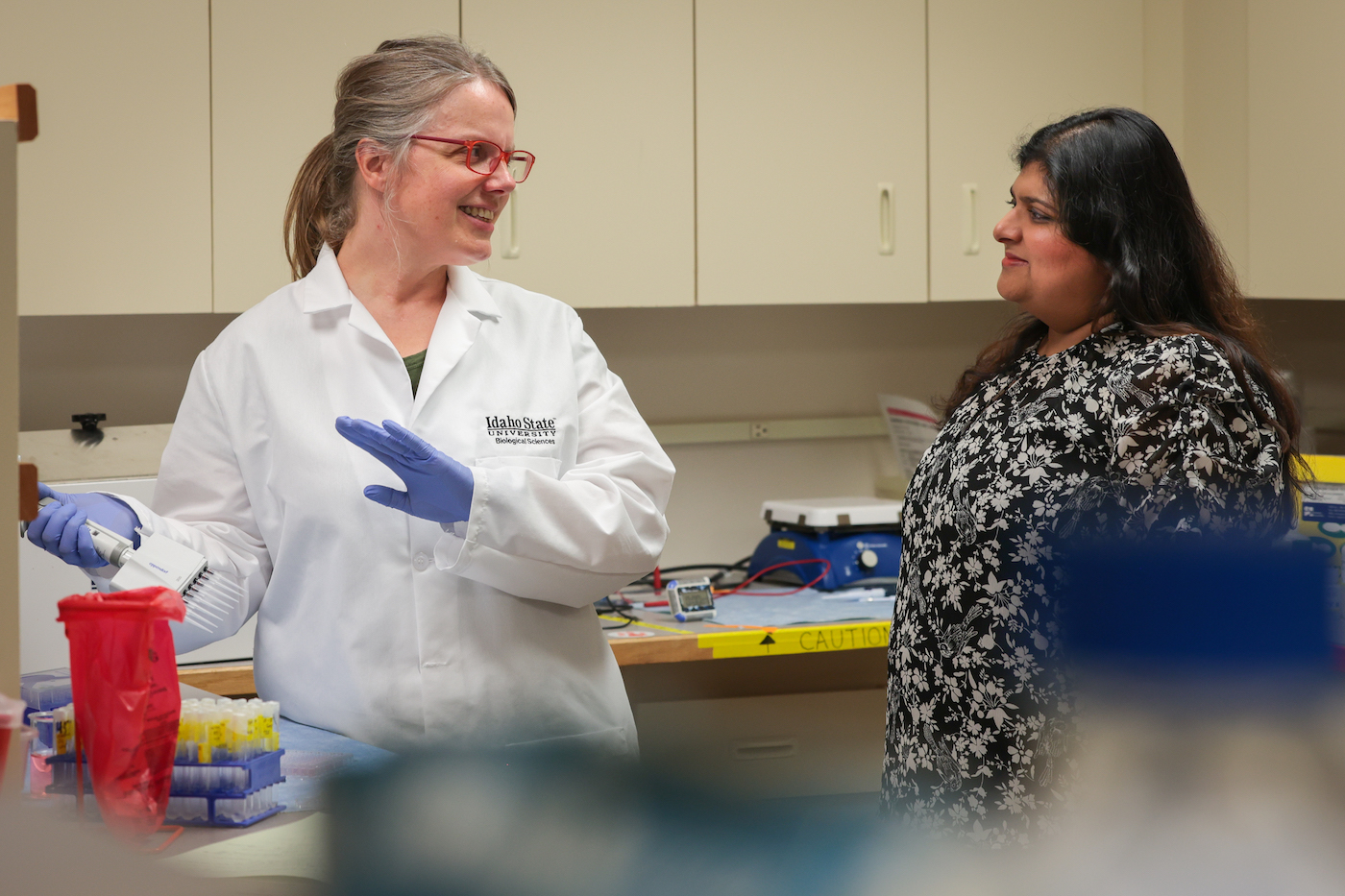 Thanks to a pair of grants from the M.J. Murdock Charitable Trusts, two Pocatello High School teachers are getting two summer's worth of research experience with a couple of Idaho State University professors.
Recently, Devaleena Pradhan and Heather Ray, assistant professors of biological sciences, were each awarded a Partners in Science grant. Through the program, they've been joined by Pocatello High School biology teachers Anne Koski and Maygan Sampson, and assisted with the professors' research on the ISU campus. Pradhan and Koski are looking into how hormone-producing enzymes are regulated and affect reproduction in the Bluebanded goby. The fish is capable of naturally changing its sex as an adult. Humans and fish share nearly all of the same hormones, and their research will help illustrate how these hormones can be different in organs like the brain.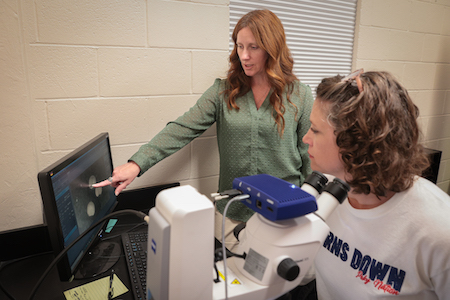 "Working with a fellow teacher has been very different than working with students," said Pradhan, "Not only have we been doing the research, we've been able to discuss different teaching methods and ways Anne and I can get students excited about careers in science."
Meanwhile, Ray and Sampson are studying how the expression of a pair of genes in frog embryos controls craniofacial development. The two genes, Hypermethylated in Cancer 1 and 2, are also found in humans and are associated with developmental disorders and cancer when the body does not regulate them properly.
"It's been a pleasure to help Maygan develop skills that will benefit her and her students, as well as have her help in answering a longstanding research question of mine," Ray said. "I hope this partnership will lead to more students furthering their biological studies at ISU."
From here, the teachers will take what they've done in the lab and share what they've learned with their students.
"The Partners in Science program has helped me improve my research skills and will allow me to expand the opportunities for students in the microbiology lab at PHS by making connections between the content and the most current, cutting-edge research," Sampson said. "I knew I wanted to be a science teacher at five-years-old after seeing my mother do research with Professor Trent Stephens right here at Idaho State, and being on-campus this summer has felt a bit like coming full circle in my career."
"For the last decade, I've been helping students in my honors biology class complete individualized science fair projects," said Koski. "Yet, I've never been involved in doing this thorough of research myself. When I heard about the Partners in Science program, I knew it was for me, and it would give me the chance to 'do' science instead of just learning the material and teaching it."
For Pradhan and Ray, they both hope that the new partnership will lead to more opportunities to bring real-world research opportunities to high schools in Pocatello and ultimately have more students excited about science, technology, engineering, and math careers.
"This opportunity opens up ISU to our community and underscores the fact that there is no age limit to learning," said Pradhan. "The Partners in Science grants allow our local teachers to take the scientific advancements and processes they learn back to their classrooms. In the long-term, we hope this will help students increase their knowledge and curiosity, and be better prepared for college."
The group wrapped their research projects for the summer of 2022 recently. Sampson and Koski will return to the lab in the summer of 2023.
For more information on ISU's Department of Biological Sciences, visit
isu.edu/biology
.
---
Categories: