Economics Students Attend Conference, Bring Home Award
May 4, 2022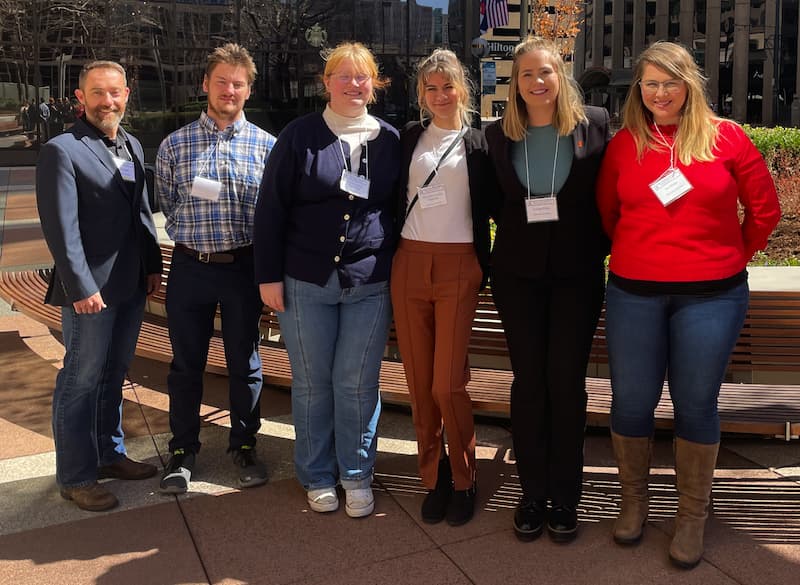 Four Idaho State University economics students were invited to attend the Western Social Science Association (WSSA) conference in Denver, Colorado, where they each presented on a variety of research topics.
One student, Gwyneth Donahue, was presented the Best Undergraduate Paper award for her work entitled "Wage Convergence of Immigrant Women: The Impact of Gender, Nativity, and Occupation." Students accepted to attend the conference included Donahue, a junior; Benjamin Whipple, a senior; Emma Watts, a sophomore; and Natalie Mortenson, a sophomore.

Students were accompanied by College of Business professors, Dr. Iris Buder and Dr. Karl Geisler.
Research projects ranged from studying the impact of occupational prestige on health-related quality of life by Mortenson and Whipple, wage converge of immigrant women by Donahue, the impact of COVID-19 on mental health by Watts, the impact of speed limits on labor sheds by Whipple, and quantifying the occupational prestige gap by Donahue and Buder.
The College of Business sent out a call for applications and encouraged students to participate in the conference using the work they had done on honors thesis, previous research, and class projects.

"The students did a phenomenal job in presenting and explaining their research to a broad audience," said Buder. "They clearly demonstrated their economics knowledge and critical thinking skills."

"Attending the WSSA conference was an amazing opportunity to meet and gain advice from graduate students who are currently in Ph.D. programs for economics, especially as I was able to receive helpful guidance in how to prepare for my own path to a Ph.D.," said Donahue. "Being able to conduct and present research was an incredible experience as it further prepared me for a future in academia. I was able to receive valuable feedback on my own research as well as gain insights into how and what research is conducted by current graduate students and professors."

For Professor Buder, the benefits that Donahue experienced while at the conference reflects the reason, she feels these types of experiences are good for students. "These types of experiences also help connect students with others researching similar topics," said Buder.

The WSSA was founded in 1958 as the Rocky Mountain Social Science Association, today the program welcomes researchers from over 30 disciplines from throughout the globe. According to their website, the WSSA's mission is to "foster professional study, to advance research, to promote the teaching of the social sciences, as well as to promote social justice, equitable treatment, and the application of due process for all peoples." The association comes together on a yearly basis as well as publishes the Social Science Journal and the WSSA News.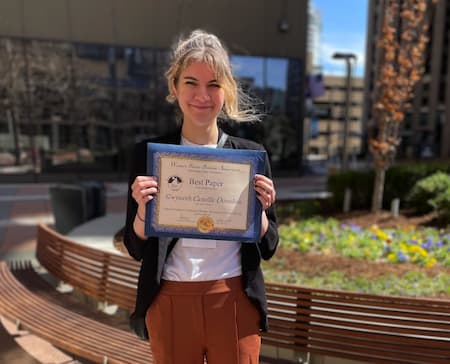 This is the second 'Best Undergraduate Paper' award Donahue has received this school year. Her first award came from attending the International Atlantic Economic Society conference, an event numerous Nobel Prize winning economists and leading government officials have participated in previously.
"I think winning two awards this year is a reflection of how great the economics department has been in preparing me to succeed in my academic endeavors," said Donahue. "I am extremely thankful for the opportunities Idaho State and the College of Business has provided me and am excited to continue working with my professors in my senior year."

Buder noted that funding for the students' travel to this conference was provided through donor contributions to the College. "We would like to sincerely thank the College of Business, Dean Hunt, and our donors for the wonderful opportunity provided to our economics undergraduate students to attend and present at the WSSA conference," said Buder.

The College of Business has funded the student attendance and participation in several economics' conferences for students throughout the last few years, including "The Great Polarization" conference at the University of Utah in 2018 which featured the Nobel Memorial Prize winner, Dr. Joseph Stiglitz.
---
Categories: