Disability Services Spotlight: Teams are Devoted to Deaf and Hard of Hearing Students
February 10, 2022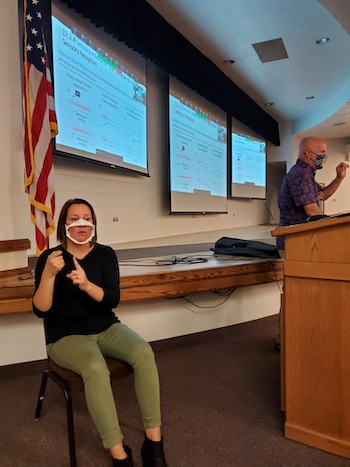 Idaho State University Disability Services creates teams that can include sign language interpreters, note-takers, transcribers and others to help Deaf and Hard of Hearing students succeed.
"It is a whole-team effort, but it is a lot of fun," said Casey Quiroz, Disability Services Deaf and Hard of Hearing coordinator.
Often on the frontline of these teams, sign language interpreters use American Sign Language to communicate directly to students during classes. During the COVID-19 epidemic, these interpreters have been wearing clear masks because facial expressions are an important part of using sign language to communicate.
When possible, a team of two interpreters will be sent to a classroom. They take turns interpreting for 15-20 minutes apiece. This helps to maintain the integrity of the communication and to help prevent injury to interpreters, who have high incidences of carpal tunnel injury.
Students who are assigned an interpreter are also assigned note-takers from Disability Services because students cannot watch an interpreter and take notes at the same time. They would simply miss too much information. These notes are then uploaded to a database that students can access, and, for some math and science courses, students are given copies of handwritten notes.
Note-takers are also provided by Disability Services to a variety of other students who need accommodations, specifically for students who need more than note-taking support programs and technologies provided by Disability Services.
Quiroz said that signing and working with Deaf and Hard of Hearing students is rewarding.
"We have good working relationships, and, whenever we can, we hang out and socialize with these students because it is a small community. It is a lot of fun to get to know them and their learning styles, and we (interpreters) are learning about new topics all the time because when we go into assignments, we do prep work before them whenever possible, and we are always learning something new."
Other Deaf/Hard of Hearing services Disability Services offers are transcribers and transcribing systems that convert talk to text for students to understand; FM (frequency modulation) systems to allow Hard of Hearing students to better hear a speaker without amplifying background noise; and some captioning services. For more information on these services, contact Quiroz at casequir@isu.edu.
In the meantime, Quiroz offers these tips to professors and other instructors for working with interpreters:
Set up interpreters in the line of sight with instructors so students can see the facial expressions of both the interpreter and instructor. Facial expressions can make up 75% or more of the visual meaning for a student being signed to.
When instructors have an interpreter in the room, they should speak to the Deaf or Hard of Hearing person, not the interpreter.
It's best for instructors to speak in their normal voice at their normal speed. There is no need to speak louder or to slow down or speed up their speech.
When showing a film, and the lights are shut off, make sure there are still lights on the interpreter and that the video is captioned.
---
Categories: