College of Education Associate Dean Dr. Mark Neill Announces Retirement
May 2, 2022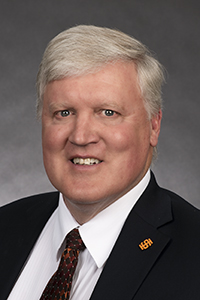 After 18 years of service to the Idaho State University College of Education, Associate Dean, Dr. Mark Neill, will be retiring at the end of the spring semester.
Neill arrived at ISU in 2004 as an Assistant Professor of Educational Leadership after spending 26 years in K-12 teaching and administration. One year after his arrival, he was designated as the assistant to the Chair of Educational Leadership and Program Lead for the M.Ed. in Educational Administration. From 2012-2016 Neill served as Department Chair of Educational Leadership and Instructional Design, which then became School Psychology and Educational Leadership.
From 2015-17 Neill also chaired the Department of Teaching and Educational Studies. In 2016, he was named Assistant Dean for Educator Preparation, a position he held until 2019 when he was named Interim Dean of the College of Education. Since 2020, Neill has served as Associate Dean of the College of Education.
While juggling all of these administrative responsibilities, Neill also served as a reviewer for the Northwest Commission on Colleges and Universities, was a member of the Professional Standards Commission, participated in the League of Schools, and served as the College of Education representative at the Regional Superintendents meetings from 2005-2022.
During his time in the Dean's office, Neill led a number of initiatives in the College and across the state. He led the revision of the Certificate for Special Education Director program, promoted the Master of Arts in Teaching program, collaborated with IDLA to offer pre-education courses for high school students and ​​jumpstart the Idaho Rural Schools Initiative, and piloted early-career mentoring pilot program using retired teachers and administrators. Neill taught 24 different courses; published and presented numerous articles, workshops, and conference proceedings; and chaired or served on many, many department, college, university, and student committees.
Mark has been a dedicated teacher and effective leader making lasting contributions to his students, programs, and the College of Education. Congratulations on your retirement, Dr. Neill!
---
Categories: