Be A Bengal Winners Recognized
April 8, 2022


As part of Employee Recognition Week, eight faculty and staff were recognized for their extraordinary efforts in exemplifying one of Idaho State's four characteristics of hope, compassion, stability, and trust.
Throughout 2021, the Be a Bengal program received 62 nominations recognizing faculty and staff for their efforts in these four categories. In years past, the University has honored one winner in each category. However, since so many great nominations were received this year, the selection committee decided to award a runner-up in each category.
Trust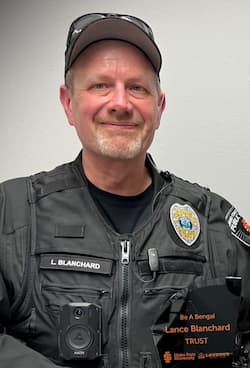 Lance Blanchard, Public Safety
Lance was nominated by two fellow staff members who shared that he is the epitome of consistency, respect, honesty, and integrity. Lance leads with patience and supports a strong work ethic and dedication to public safety. It was also noted that through his dedication to serve others and put himself in harm's way, in even the most difficult circumstances, Lance creates a sense of safety across the campus community.
Runner up: Steven McMichael, Facilities Services
Compassion
Carolin Glendenning-Bowman, Idaho Falls University Programs
Carolin was nominated by a fellow staff member who shared how she goes above and beyond to help students and colleagues. The nominator shared how Carolin went out of her way to help students who were struggling financially and needed help during the shutdown. Additionally, Carolin led with kindness and compassion in navigating a difficult situation when a conflict arose about masks. Our nominee explained the policy and voluntarily moved services outdoors to de-escalate the conflict.
Runner up: Duane Rawlings, College of Technology
Stability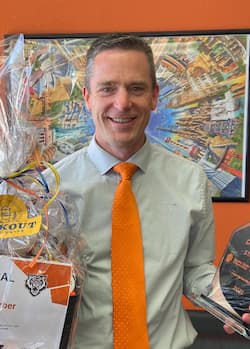 Derek Gerber, Physical Therapy
Derek was nominated by a fellow faculty colleague who shared how he provided a sense of stability in managing increased workloads within the department, particularly within one lab class during COVID-19 operations. The nominator shared how Derek went out of his way to help share the burden of additional duties outside normal lab hours, even on top of his own administrative duties, to ensure students were able to finish their requirements by the end of the semester.
Runner up: Mia Benkenstein, Research Outreach & Compliance
Hope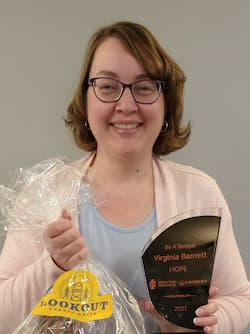 Virginia Barnett, College of Arts and Letters
Virginia received four nominations from four different students. These nominators shared how Virginia has been a cornerstone to their success in completing their degrees. Each of these students provided details as to their experiences, and the tremendous barriers they encountered in their lives that were making educational attainment difficult. Each student recounted their positive experiences with Virginia, and shared how her commitment and support was exemplary. Each nominator spoke about Virginia's encouragement and quick response to panic-stricken emails.
Runner up: Ellen Combs, College of Science and Engineering
The winners in each category received a basket of ISU gear, courtesy of the University's program sponsor, Lookout Credit Union, and a reserved parking pass for the next academic year. Our runners-up received a $100 gift card, also courtesy of Lookout Credit Union.
---
Categories: