Speech Language Pathology Professor Receives Newly Established College of Health Teaching Fellowship
December 22, 2022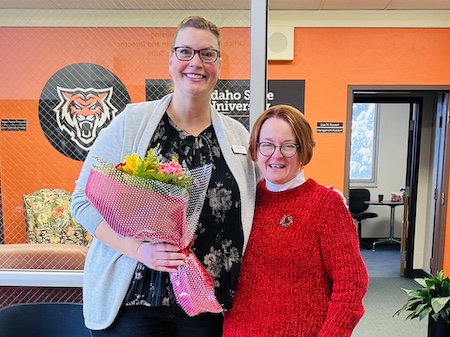 Idaho State University's College of Health has named Victoria (Tori) Scharp, Ph.D., as their first teaching fellow. The College of Health Teaching Fellowship award is given to recognize, reward, and honor educational leadership, teaching excellence, and innovation during the preparation of future healthcare professionals in the College of Health.
An experienced speech language pathologist, Scharp has been teaching in the Department of Communication Sciences and Disorders since 2016. She has mentored hundreds of students in not only their educational endeavors, but also in their rich variety of research initiatives, along with providing guidance throughout their personal and professional journeys.
Teresa Conner, dean for the College of Health says it was very important for the college to establish the teaching fellow award.
"Educating future generations of professionals is our main purpose in this college," Conner said. "Therefore, we need to celebrate and honor faculty who demonstrate significant accomplishments and a true commitment to supporting student success."
Scharp was selected by the College of Health as the 2022-2023 teaching fellow for outstanding contributions in three areas: educational leadership, teaching excellence and innovation. Ellen Rogo, associate dean of curriculum and assessment for the College of Health explains how Scharp was a perfect selection, based on the criteria for the new award.
Educational Leadership: Leadership to students or faculty in the COH, KDHS, university, or discipline during the development of their teaching, scholarship, and service achievements. Additionally, contributions are made to the scholarship of teaching.
Teaching Excellence: Actions to create learning environments that maximize student learning and achieve or exceed student learning outcomes.

Innovation: Application of novel and unique strategies to promote learning. Innovation involves intentional activity and creativity aimed at improving education.
"My commitment to student success and providing an evidence-based learning experience drives my engagement in educational leadership and innovation," Scharp said. "I hold my teaching responsibilities in high regard and relish the opportunity to train the next generation of speech-language pathologists. I feel truly honored to receive this prestigious award."
Scharp holds a doctoral degree in Communication Sciences and Disorders from the University of Pittsburgh, a master of arts in Speech-Language Pathology from Miami University and a bachelor of science in Speech-Language Pathology & Audiology from Miami University as well.
---
Categories: