Retired Teacher Establishes Gillette Family Scholarship to Aid Post-Traditional Students
January 12, 2023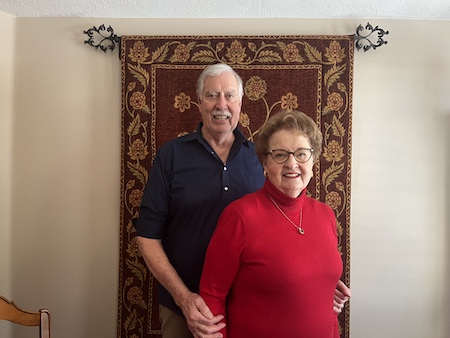 An Idaho State University College of Education alumnus and retired Pocatello teacher, Beverly Gillette, and her family have established the new Gillette Family Scholarship to benefit post-traditional students returning to school to become elementary teachers.
daho State University has always meant a lot Gene and Beverly Gillette. Not only was ISU the place where they first met in 1960, but it was also the foundation for their belief in the power of education to change lives.
In 1963, Gene earned a bachelor's degree from ISU in history with minors in geology, and military science along with distinguished military honors from the Reserved Officer Training Corps (ROTC). Beverly and Gene were married the next week, and Gene went on active duty with the army. His first permanent assignment was Germany where they both were able to do some interesting traveling.
While Gene served in Vietnam, Beverly moved to stay with family in Kimberly, ID. During this time in Kimberly, Beverly was asked to be a substitute teacher for a Spanish-speaking classroom. Her time in the classroom sparked her desire to return to ISU to finish her bachelor's degree.
"It wasn't easy and our budget wasn't very good, but it was the best insurance policy for the family, and it was a good example for the kids," Beverly said.
Beverly became the first female in her family to graduate from college by earning a bachelor's degree in elementary education in 1976 from the ISU College of Education. "Ten years and four kids later, I finally did it," she said.
Upon graduation, Beverly accepted a teaching position at Tendoy Elementary School in Pocatello where she stayed until her retirement in 1997. Beverly's belief as a teacher was to see her students as little people and provide them with the same level of respect she wanted in return. She started every day in her classroom by offering a handshake or a hug to her students with most choosing the latter.
"I can't say I was a very good student growing up which proved to be an asset to me as a teacher," Beverly said. "I could relate to the struggling student."
Beverly's decision to finish her degree and have a teaching career has ignited inspiration in her family that spanned generations including all four of her children attending ISU. Upon seeing her lifelong friend, mentor, and fellow retired educator, Rita Haggardt, reach $20,000 for her Terry L. and Rita Haggardt Scholarship Endowment in early 2022, Beverly knew she could make a difference as well.
The $25,000 Gillette Family Scholarship was established to benefit returning ISU students, like Beverly, that hope to finish their bachelor's degree in elementary education. As Beverly said, "I certainly could have used a scholarship when I went to school, so to pass that along to another is meaningful to me."
The Gillettes currently reside in Pocatello. Beverly is active in the Southeast Idaho Retired Educators Association and enjoys spending time with her family and five grandchildren. To learn more about scholarship opportunities within the ISU College of Education, please visit isu.edu/education/students/scholarships/.
---
Categories: